Checkout How These 5 Kid Entertainers Looked Before They Gained Fame And How They Are Doing Currently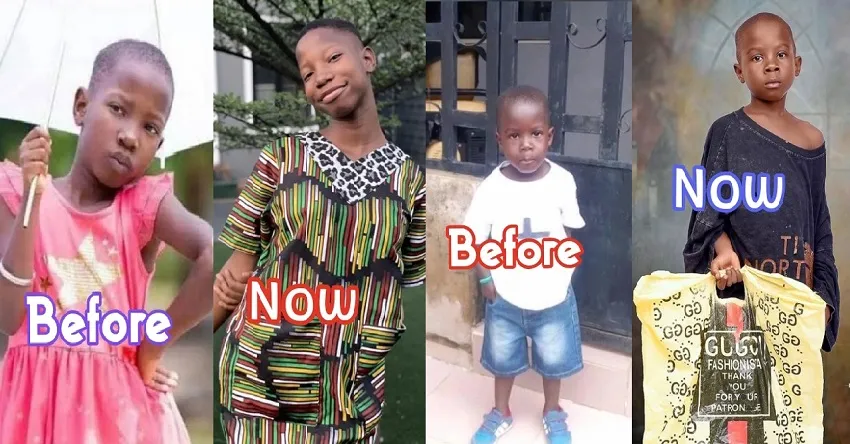 There are these popular kids celebrities who have been entertaining their fans and making waves after venturing into the entertainment industry. These kids have changed after they became popular on social media, they are also one of the most sought-after kid entertainers in the industry because of how many talents they got.
1) Emmanuella Samuel
Emmanuella Samuel, who is one of the most sought-after kid comedians, has been a blessing in the entertainment industry after she gained popularity through Mark Angel who always plays the role of her uncle in their skits. Recall that Emmanuella went viral after her first comedy "This is not my real face" in 2015, then she was 5-years-old when she featured in that skit.
Emmanuella is now 12 years-old and has grown to be a talented kid and has achieved numerous things in the entertainment industry. After so many years active, Emmanuella is still very much in the entertainment industry.
2) Adaeze Onuigbo
Actress Adaeze Onuigbo who started her acting career in the Nollywood entertainment industry when she was just 5 years old. Ever since then, Adaeze has been making a lot of waves and she is currently a 14-year-old. Adaeze is now a big girl in the entertainment industry and can play a bigger role unlike before. Adaeze Onuigbo is currently active in the entertainment industry and has won awards.
3) Special Nedu
Chinedu Michael Goodluck Akuwudike, otherwise known as Special Nedu, Became Famous after venturing in more than 50 skits with his elder brother Dike from 2017 till now. Special Nedu photos he recently took with his brother Dike have shown that he has changed over the years. Special Nedu started featuring in his elder brother's comedy, and he plays the role of his son. Nedu was just 7 years-old when he joined his elder brother's comedy, he is currently 12 years-old, and he is still part of his brother's comedy.
4) Aunty Success
Success Madubuike, professionally known as Aunty Success, started her entertainment career as a child, she was just 4 years old when she started in 2017, Success is 9-year-old in 2022 and she is still part of Mark Angel comedy crew. Recall that she became popular as Aunty Success after she was introduced to Mark Angel Comedy. Success is very much active in the entertainment industry.
5) Kiriku
Enorense Victor, better known as Kiriku, has recently been making waves in the entertainment industry, he has shared his throwback photo on his Instagram, and one could tell that there were changes after he became famous on social media. The 8-year-old has recently become one of the most sought-after comedians as he has featured in a skit with other top celebrities.