Checkout 8 Popular Nigerian Celebrities Who Have Been Arrested For Drug-Related Offenses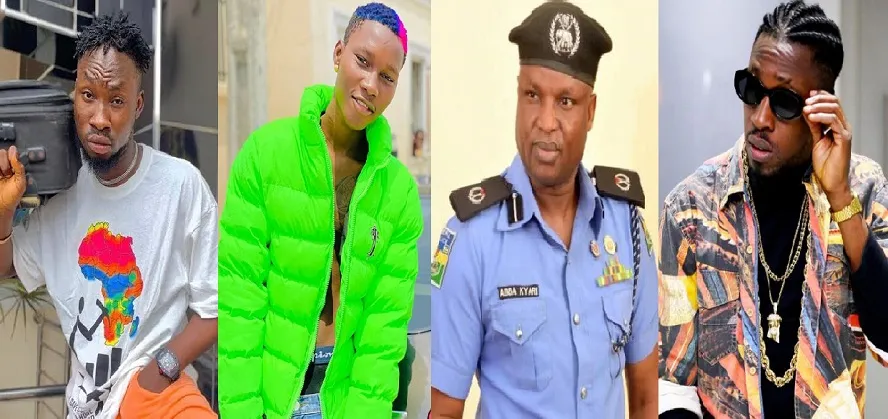 Since the turn of the century, quite a number of some of the biggest names in the Nigerian entertainment industry have been arrested and convicted on drug-related offences.
However over the last couple of years, since former military governor, Buba Marwa was appointed as the Chairman of the Nigerian Drug Law Enforcement Agency, NDLEA, the agency seemed to have ramped up and clamped down heavily on public figures and celebrities who are involved in drug trafficking and have been made to face the full wrath of the law as they try to clean up the streets of Nigeria of dangerous, hard-rug substances.
As much as celebrities seem to always get away with certain types of crimes drug-related offenses seem to be one that their celebrity status could protect them from
Over the years we've seen star Yoruba Nollywood actors like Baba Suwe, Yetunde Wunmi and Uche Odobuta get arrested for possession and trafficking of drugs and then there was a slow down of the NDLEA's hunt and clamp down of the celebrities. But that hasn't been the case since, Lt.Gen Buba Marwa took over, as some of the most popular names and public figures have in the last few months landed in the NDLEA net and set to be convicted.
This is why today, we've decided to take a look at some celebrities who have at a time been arrested by NDLEA for drug-related offences, over the past 12-months;
De General:
Popular Instagram skit maker, Joshua Sunday aka De General was arrested by operatives of NDLEA on the 12th of January 2022 after his residence was invaded by operatives of the agency. According to NDLEA, drug exhibits including cannabis Sativa, Tramadol 225mg, and some paraphernalia for drug use were discovered in his residence.
DeGeneral after being charged to court was released after the court ruled that the exhibits discovered at their residence was too small to use for their sentencing, hence they were warned to desist from drug abuse
Zinoleesky:
On February 24th, 2022, some videos hit the internet of the Marlian record signee Zinoleesky getting arrested by men of the NDLEA along with his co-label signee, Mohbad along with 3 other persons a couple of ladies and one other guy at the Marlian villa at Lekki for being in possession of Cannabis and Molly. The artists were arrested but were later released.
NDLEA while giving the reason for their arrest, the Director of Media and Advocacy, Femi Babafemi stated that personnel of the agency found illicit drugs in the house of the artists.
Mohbad:
Just like Zinoleesky, the Imole singer, Ilerioluwa Oladimeji aka Mohbad was also arrested on the same night along with Zinoleesky at the Marlian villa in Lekki, for being in possession of Cannabis and Molly, however, the pair are yet to be convicted after being released on bail last month.
DCP Abba Kyari:
Hugely respected and revered, Nigerian police officer Deputy Commissioner Of Police Abba Kyari was arrested on the 14th of February over links with a notorious drug Brazil-Nigeria-Ethiopia drug cartel. The embattled former supercop was arrested along with 3 other members of his IRT team for trying to pull a 25kg cocaine deal with an NDLEA official that went burst.
The embattled cop is still in custody and is battling multiple charges one for fraud being involved with the Nigerian notorious international fraudster and also drug baron allegations.
Well I know, Abba Kyari isn't particularly a celebrity, but at the moment he shares that celebrity status and he note also that he is a public figure.
CDQ:
On Wednesday, April 14, 2021, renowned indigenous Nigerian rapper, Sodiq Abubakar Yussuf aka CDQ was arrested at his Lekki residence by the NDLEA following an intelligence report that the agency detected. The drug law agency had said they found some substance known as 'loud' a cannabis variant in the rapper's house. According to an exclusive report gathered from The Punch, the NDLEA's director of media and advocacy, Femi Babafemi, confirmed the arrest of the rapper and made it clear that he is still being investigated.
Orezi Allen Esgine:

In 2021, popular Nigerian singer Orezi was rumoured to have been involved in a drug-related offence and was reported to have been arrested in Dubai, UAE.However, this story was debunked as untrue by the singer and his team who stated that the story was fabricated to tarnish the image of the singer.
Fatoke Abiodun:

In 2013, virtuoso singer, King Sunny Ade's ex-lead guitarist, who has unceremoniously retired from his band about eight years ago, was sentenced to three years' imprisonment by a Federal High Court sitting in Lagos for drug trafficking.The veteran guitarist was arrested on January 1, 2013, with 1.575kg of cocaine while trying to board an Air France flight to Italy at the Murtala Muhammed International Airport, Lagos. The drug was discovered in the false bottom of his luggage during the screening of passengers to Italy.The grandfather and husband of four wives with many children owned up to the alleged crime blaming his involvement on financial hardship.
The incident cost him more than just his time and reputation as he also lost his place in the band of the maestro singer