Checkout 7 Nigerian Businessmen Who Owns Rolls Royce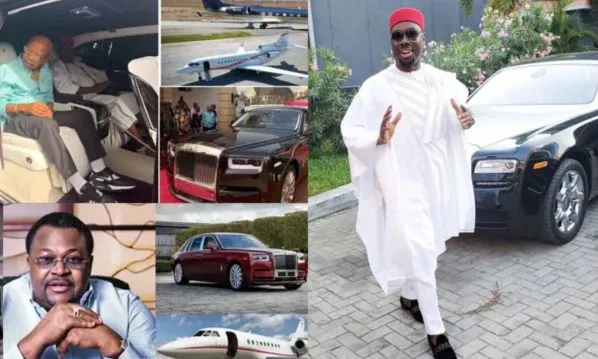 Without any doubt, a Rolls Royce car is the epitome of class and wealth. It is one of the most beautiful and expensive cars produced across the world. If you can afford a Rolls  Royce, some of the bespoke features you get to enjoy includes Apple CarPlay integration, night vision, a WiFi hotspot for up to ten devices, and different customized packages depending on what you want.
Checkout 7 Nigerian Businessmen Who Owns Rolls Royce:
Despite the economic hardship popularly complained about in Nigeria, it should interest you to know that some Nigerian celebrities are able to afford a Rolls Royce, In fact, not just one, some have about 2 or more in their garage. Curious to know who these wealthy Nigerian celebrities are? Find them out in these article:
JIMOH IBRAHIM
An indigene of Ondo State, Jimoh Ibrahim is a true Yoruba man and a wealthy celebrity in the business sector.. His hard work and diligence over the years has paid off as he has the money and impact to show for it. Jimoh Ibrahim is the CEO of Global Fleet Group. He is also the director at the prestigious Nicon group which has a number of subsidiaries. They include Nicon Academy, Nicon Airways, Nicon Energy, Nicon Hotels, Nicon Insurance, Nicon Investment, Nicon PFA, Nicon properties, Nicon Trustee, Nicon United Kingdom, and Nicon Sao Tome.
With a net worth estimated at over $1 billion, Jimoh Ibrahim is able to afford  a fleet of luxurious cars. In commemoration of his 50th birthday,  Jimoh Ibrahim gifted himself a Rolls Royce Phantom worth over 300 million NGN from Cocharis Motors.
MIKE ADENUGA
Almost every Nigerian has heard the name Mike Adenuga. He is not only popular, he is wealthy as well. He is well known as the founder of Globacom, the second largest telecommunications network in Nigeria after MTN. Globacom also has presence in Benin, Ivory Coast and Ghana. He owns stakes in the Equitorial Trust Bank and the oil exploration firm Conoil (formerly Consolidated Oil Company). He made his fortune from oil business and telecommunications.
Mike Adenuga has a mouth-watering net worth of $7.9 billion and he has lots of properties and cars as a symbol of his wealth. Being one with a heart to help others, Mike Adenuga is a philanthropist and he has helped various less-privileged people. He owns a Rolls Royce worth millions of naira. It is rumored that he owns one Rolls Royce in Nigeria and another one in London.
FEMI OTEDOLA
Father of famous Nigerian disc jockey, DJ Cuppy is one of the celebrity names every Nigerian is familiar with. The name has been widely used in various hip hop songs and movies alike due to his immense wealth. Born on the 4th of November 1962 in Ibadan, Femi Otedola is a well-known CEO, entrepreneur and philanthropist. He made his wealth from various business engagements, particularly from oil and gas. He is the former chairman of Forte Oil. Femi Otedola is also the founder of Zenon Petroleum and Gas Ltd.
Femi Otedola enjoys the finer things life has to offer. He owns a customized Rolls Royce Phantom with bespoke features worth millions of naira.
Obi Cubana
Obinna Iyiegbu popularly known as Obi Cubana is a Nigerian Based businessman, entertainer, entrepreneur, philanthropist, and a show killer, he is the chairman and the owner of the popular Cabana groups, Obi Cubana was born 12th April 1975, and he is currently 45 Years Old as of this year 2020. Obinna Iyiegbu best known as OBI CUBANA is from Oba, a community in Demili-South Local Government Area in Anambra State, Nigeria.
Following the remarkable progress he made from the Ibiza Club, he established the Cubana group, a hospitality club that provides all-around entertainment satisfaction in 2009. Cubana group was first established in Owerri, Imo state capital Nigeria. Today, Cubana has spread across various states in the country including Lagos, Abuja, and Enugu.
ADEYEYE ENITAN OGUNWUSI –THE OONI OF IFE
Since his coronation, the Ooni of Ife has shown intense hard work in expanding the influence of Yoruba culture and to unite it with other cultures and ethnicities. The Ooni of Ife is a highly revered monarch and man of his words. He doesn't hesitate to go the extra mile even to remote places in his kingdom to understand the needs of his people and get problems solved.
Aside from being a traditional ruler, he is a successful real estate businessman and the Chancellor of the University of Nigeria, Nsukka. He is also a wealthy monarch and has a high taste. His high taste is the drive behind his acquisition of an ultra-luxury 2011 model Rolls-Royce Phantom.
Sir Olutoyin Okeowo
Sir Olutoyin Okeowo is one of Nigeria's silent billionaires, a real estate guru, a Philanthropist, a Knight of the John Wesley Anglican Church, and chairman of Gibraltar construction Nigeria limited
Born in 1965 in Ijebu-ode into the family of (late) Victor Taiwo, Olu Okeowo can be regarded as the King of Luxury as his lifestyle is befitting of that title, even though he tries to keep it on a low. He is a lover of beautiful luxurious things ranging from fabrics, cars, constrictions, and the list goes on and on. A look into his garage will give you the conviction you seek.
Arthur Eze
Arthur Eze is the Chief Executive Officer of Atlas Oranto Petroleum; he is also a Philanthropist and a Politician. His traditional title bestowed upon him is 'Ozoigbondu' of Ndi Igbo. He was born on the 27th of November 1948 in Ukp, Dunukofia LGA, in Anambra State. He is not only the owner of the largest privately-held oil exploration and production companies in Nigeria, but he is also a Prince born into a traditional Royal Family.
Atlas Oranto currently has up to 22 oil and gas licenses in various parts of Africa. Apart from being the largest privately-held oil company in Nigeria, Atlas Oranto is also the largest holder of oil exploration blocks in Africa. Atlas Oranto by Arthur Eze has its regional offices situated around top countries in West Africa, and its primary technical location is situated in Lagos, Nigeria, with a headquarters in Abuja, Nigeria.
The post Top Nigerian Businessmen Who Owns Rolls Royce appeared first on Latest car news, car blog news in Nigeria, car import duties in Nigeria, latest car release.