Checkout 7 Most Stunning Nigerian Bridesmaids That Will Blow Up Your Mind (Photos)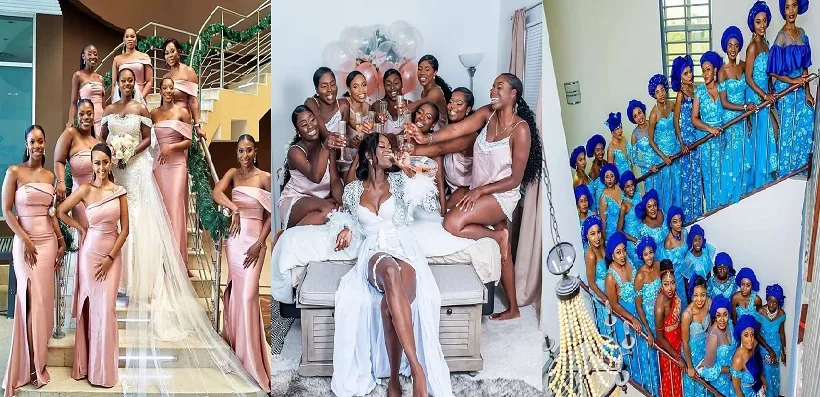 It's their day.
"Ain't no party like a Lagos party, cause a Lagos party we don't bother nobody"…these were the wise words of one Mr. Banky W when he recorded and released his smash hit single Lagos Party.
And while the words of Mr Bankole Wellington still ring true, I'm here to do a little remix: "Ain't no wedding like a Naija wedding, cause a Naija wedding, we are bothering everybody!"
When it comes to weddings, Nigerians pull out all the stops. Big wedding venues, big wedding cake, expensive DJ, outfit changes…it must all be right, and it must all be big.
Oh, did I say most times, this is to be done TWICE! Yup, you pull out all the stops for the traditional wedding, then you pull out even bigger stops for the white wedding.
While traditionally, the saying goes "It's her day", for some of the bridesmaids in today's list, they weren't going to have that. By force and by fire, it became THEIR day.
I know you all respond really well to my "Most Stylish" segments and so I'm going to try to bring you at least one a week. To make sure you don't miss out on any new and upcoming ones, as well as other fun stories and articles I post every single day, be sure to like and follow my Facebook page.
Without further ado, here's the list!
Number Seven.
To compliment the bride's beautiful white dress, these bridesmaids opted for a pink number that not only stands out, but compliment each other beautifully.
The way each of the bridesmaids styled their individual looks with the fabric is really outstanding. No one is overshadowing the other, and most especially, everybody is still allowing room for the bride to shine.
I must say, the bride is GORGEOUS. And that dress is really accentuating her curves. The groom must be one lucky man.
Number Six.
Okay, I have to give this group props for being creative and trying to be different with it. Instead of her chief bridesmaid having the same fabric as the other bridesmaids, she opted for a red number, but then distributed red flowers around to compliment all the other green outfits with her red choice.
Personally, I hate the way the red flowers look with the green dresses. It looks like an eyesore, but I have to commend them for keeping it fresh and at least trying to keep it different.
Also, 2 things: First of all, that bride's dress is very risque especially for a Nigerian wedding.
Secondly, the second girl from the left is gorgeous and I personally think her dress design is the best from the bunch.
Number Five.
Boooold choice!
Who wears black as the color of choice for a wedding? I love the picture above. The way everybody stood strategically, the level from which the camera took the shot. The way everyone is coupled up while leaving room for the main couple in the middle.
Really stunning picture.
But then again I repeat. Who wears black for a bridesmaid outfit? Especially in a Nigerian wedding? Am I missing something?
Number Four.
I personally love this shot. There's something so effortless and breezy about the picture.
Granted, this is definitely not what these ladies wore to the actual wedding, I'm reckoning this is some kind of bachelorette party happening before the wedding…or maybe after?
Either ways, I love the feeling of joy and the carefree energy the picture exudes.
Again, look at that bride though! Gorgeous!
Number Three
Simple but stunning.
The ladies chose a very simple and popular fabric choice, but made it look good in the different ways they chose to design it.
Also, I like how all the ladies are wearing the same kind of drop earrings…a very small observation that I just took notice of.
And then…once again, I have to point out: this bride!
Wow, the women in these pictures man. Babes. The whole lot of them.
Number Two.
This picture really stands out to me because of the creativity in design choices. At the heart of it, all the bridesmaids, as many as they are, are wearing the same type of fabric, yet the way each and every one of them sewed their own works in two ways: it stands on its own as a beautiful dress, but then it also doesn't compete with any of the other women's outfits.
They all match and compliment, and the aesthetic choice for how they should all stand and pose for the picture is also really neat. It forms a perfectly nice < shape, and it's very appealing.
Also, shoutout to that bride for wearing that red number. It's very bold and she immediately stands out from the pack. Amidst the slew of women, you can still very quickly point out who the bride is and where she's standing.
Number One.
I love everything about this picture. I love EVERYTHING about it.
First of all, the bride looks wonderful. The tiara on her head, the design of her wedding dress, the way she's standing. She looks like a real life princess.
Then, we turn to the bridesmaids. Yellow. It's a risky choice, but these ladies make it work. Everybody looks nice and elegant. Nothing too risque, nothing too loud, yet each one making a nice simple statement.
Finally, the pose. All her friends standing around her praying for her as she's about to go and marry the love of her life. What better pose can be asked for? What better kind of picture to look back at and say "wow, look at my friends go!"
I really like this picture. Definitely my number one choice!
That's All!