Checkout 5 Nigerian Celebrities Who Used To Work For Other Celebrities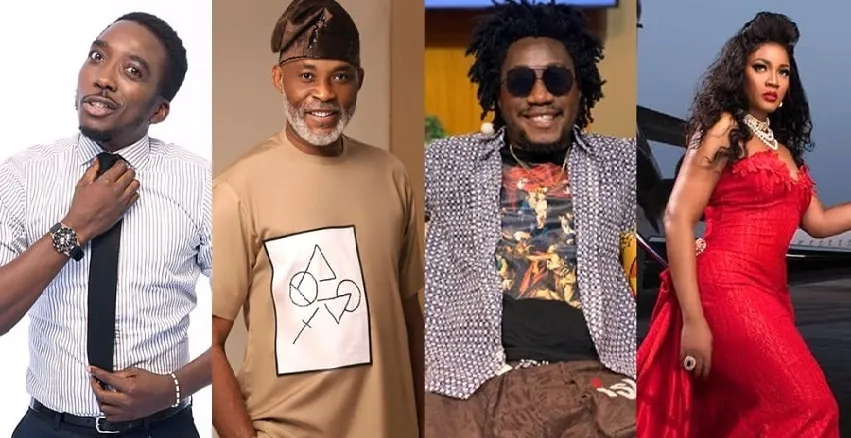 Celebrities are some of the most sought-after people to work for or under because people believe that working with a celebrity will not only be financially rewarding but will also carry clout wherever they go. Getting to work for a celebrity is so many people's dreams but what you rarely hear of is a celebrity working for or under another celebrity.
A number of celebrities you know today actually started out working for other celebrities. Today we'll be counting down 5 Nigerian Celebrities Who Used To Work For Other Celebrities. Are you ready to jump in and see who's on our list? Then let's go!
1. Bovi for Richard Mofe-Damijo
During a discussion with Basketmouth for Pulse, comedian Bovi revealed that his first job was actually working as a personal assistant for popular Nollywood actor, Richard Mofe-Damijo aka RMD. Bovi revealed that he worked for RMD for 2 years and 6 months between 2004 and 2006. He said:
My first job ever was RMD's PA. March 1st, 2004 to September 30th, 2006. That's like 2 years and 6 weeks. He did not owe me. Even the last month, I wasn't supposed to receive a salary but he paid me. My first salary was 15k but it increased over the years. It was a serious luxury.
2. Juliana Olayode for Funke Akindele
Juliana Olayode came into national consciousness after starring as Toyosi aka Toyo Baby on the hit series, Jenifa's Diary showrun by Funke Akindele-Bello. According to Juliana, she used to do domestic work for Funke before and during her time on the show. Juliana said:
I lived with Aunty Funke while set was on, so I counted it my duty to clean the house. She lived in a duplex at Chevron at that time, so I cleaned the entire house. Sweeping and mopping from room to room. Scrubbing bathroom after bathroom. I arranged wardrobe after wardrobe, laid one bed after another. You would not know any of these if I am not saying this. I did all this with joy. She was special to me and you serve those you love.
3. Nasboi for Omotola Jalade-Ekeinde
Another bit of information you may not know is that Nollywood superstar actress Omotola Jalade-Ekeinde actually started a record label and do you know one of the people she signed under that record label? Yup! Now Instagram comedian Nas Boi. This was a while ago and speaking about the story, Nas Boi said:
I was a musician before I started making comedy skits. I was a proper musician. I was even signed to Omotola Jalade Ekeinde's label. People don't know that and I don't put it out; people don't know the fact that I was a musician. I kept it on the low because I have a lot of plans for music.
4. Taymesan for Ebuka Obi-Uchendu
Yet another bit of information you may not know. Did you know that online personality and influencer Taymesan used to work on Ebuka Obi-Uchendu's Channels TV show, Rubbin' Minds as a production manager before he became famous? Yup! He did.
Ebuka made the revelation when he sat down with Taymesan for his Tea With Tay podcast and both men talked about their impressions of each other and time on the show.
5. Scarlet Gomez for Laycon
Finally, fans everywhere were surprised when Nollywood actress and singer Scarlet Gomez revealed that she had been the one working as Laycon's social media handler while he was in the Big Brother house.
Scarlet is married to Temi Gomez who happens to be Laycon's manager and so when the announcement hit social media, it came as quite a shock to a number of people.