Checkout 5 Famous Nigerians Who Gave Birth to White Children (Photos)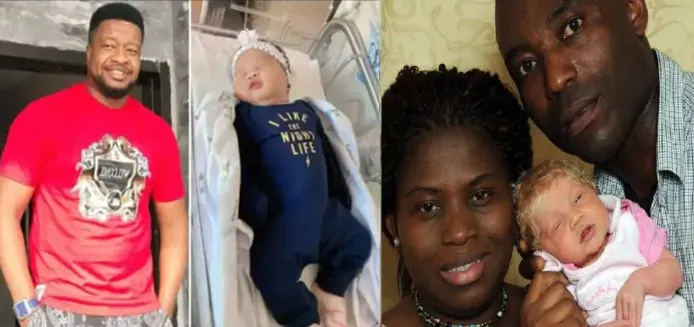 My friend sent me this picture below today from an article that was featured in the New York Post. The article was about 2 black parents giving birth to a white child.
He sent it to me in disbelief believing 100% that the woman stepped out of her marriage and sure that the baby belongs to another man. However, I told him I'm pretty sure that there are even Nigerian people who are black but give birth to children who come out physically looking white. Plot twist: It turns out that the parents in the picture above ARE actually Nigerian (father's name: Ben Ihegboro, mother's name: Angela Ihegboro, and child's name: Nmachi Ihegboro). While sometimes this phenomenon happens because one of the parents is white, other times, it just what it is.
He told me I was lying and told me to point to anybody that I know like that and in doing that, I unwittily created a list! I think it's an important phenomenon so I'm choosing to share it with you today.
1. Karen Igho
Big Brother Africa 2011 winner, Karen Igho got married to her long-time boyfriend, Yaroslav Rakos in 2014 and in 2015, welcomed a bouncing baby boy who as you can see from the picture above came out looking very white.
2. Ufuoma McDermott
Ufuoma McDermott, maiden name: Ufuoma Ejenobor on 23rd April, 2010 got married to her Irish husband, Steven McDermott. Not long after their wedding ceremony, Ufuoma welcomed her children to this world and both of her children as you can see from the picture above look half-white. In this case, they indeed are because their father is Irish.
3. Oluchi Onweagba
Nigerian model Oluchi Onweagba in 2006 got married to Italian fashion designer, Luca Orlandi with whom she has a son named Ugo Ugochukwu. As you can see from the picture above, the skin color between Ugo and his mother are very different.
4. Anita Hogan
Former Nigerian actress Anita Hogan married a Dutch husband, Ted Mak in 2006 who sadly passed away in 2019. With Ted, Anita had a couple of children and as you can see from the picture above, the complexion between Anita and her children is wildly different.
5. Browny Igboegwu
At this point, maybe you might be saying 'oh, but the people on this list have white spouses', well then what do you say about Nigerian actor Browny Igboegwu who welcomed a baby girl last year with his wife. The girl came out looking very white as evidence in the picture above.
It is not the strangest thing in the world. This happens all over the world, and if you need evidence of it happening here in Nigeria as well, I've just given you five you can look at. My friend had to shut up after I gave him my list, hopefully this list can do same for any doubting Thomases in your life.