Checkout 4 Nollywood Actors You Didn't Know Are From Gabon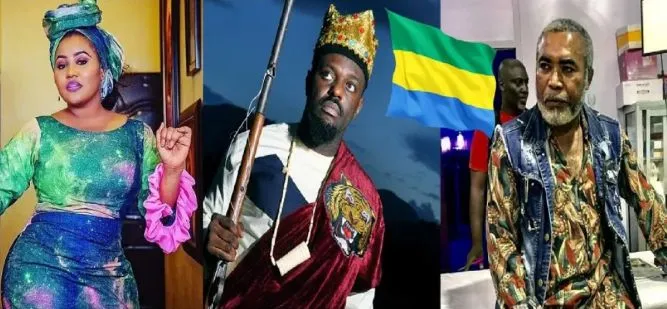 Nollywood is filled with some of the most talented actors and actresses. Because Nollywood is the Nigerian movie and television industry, it is easy to assume that everybody within the industry is 100% Nigerian. However, that is in fact not the case.
Today, we'll be counting down 4 Nollywood celebrities you may not know are actually also from Gabon. Are you ready to find out who they are? Then let's go!
4 Nollywood Actors You Didn't Know Are From Gabon:
1. Jim Iyke
Nollywood superstar Jim Iyke is by far one of the most popular actors in Nigeria. He was always known and is still known as Nollywood's bad boy. From his oyinbo accent he did so well in films to his ability to play crazy, radical, bad boys, Jim plummeted to the top of the Nigerian entertainment industry and has since gone on to star in such blockbuster movies as Last Flight to Abuja, Merry Men, Beyonce and Rihanna, Stalker, and recently, Bad Comments.
Because of how successful Jim Iyke is in Nigeria, it may be surprising to some people to know that the phenomenal actor was actually born on the 25th of September, 1976 in Libreville, Gabon. He was born to Igbo parents, Mr and Mrs Stephen Okolue, whose last name changed to Esomugha from Ogwugwu Village in Enugu Agidi town of Anambra State. Jim Iyke is Gabonese by birth.
---
2. Hadiza Aliyu
Hadiza Aliyu also popularly known as Hadiza Gabon is a professional Nigerian actress and filmmaker who acts in both Hausa and English movies primarily. Throughout the course of her career, Hadiza has served as an ambassador for MTN Nigeria and Indomie Noodles, and has also received such awards as best actress at the 2013 Best of Nollywood Awards, and best actress at the 2nd Kannywood/MTN Awards in 2014. She recently appeared in the blockbuster movie, Lagos Real Fake Life.
Hadiza Aliyu just like Jim Iyke was also born in Libreville, Republic of Gabon making her a Gabonese woman by birth.
---
3. Zack Orji
Nigerian actor Zack Orji is another beloved actor who has graced our screens for many years now. He made his movie debut in 1991 where he starred in the movie Unforgiven Sin, a role he has revealed in interviews he got without even auditioning. Since then, Zack Orji has gone on to star in quite a number of iconic movies including Glamour Girls, Blood Money, The Bridge, Three Wise Men, Nneka the Pretty Serpent, and more.
Zack Orji was born in Libreville, Gabon in 1960 and eventually went on to grow up in Cameroon, Benin and Togo, places that made him bilingual so that he can now speak both English and French fluently. He is a Gabonese man by birth.
---
4. Leo'nel
Chukwuemeka Lionel Orji popularly known as Leo'nel is a Nigerian musician who has sang such songs as Uju and Roll. Leo'nel also happens to be the son of actor Zack Orji who as we just found out is Gabonese by birth making Leo'nel, his son, a Gabon man by blood.
Jim Iyke, Hadiza Aliyu, Zack Orji, and Leo'nel are all Gabonese. Which one of them surprised you the most to find out? Let me know by leaving a comment on my Facebook post.