Checkout 13 Adorable Throwback Pictures of Nollywood's Older Actors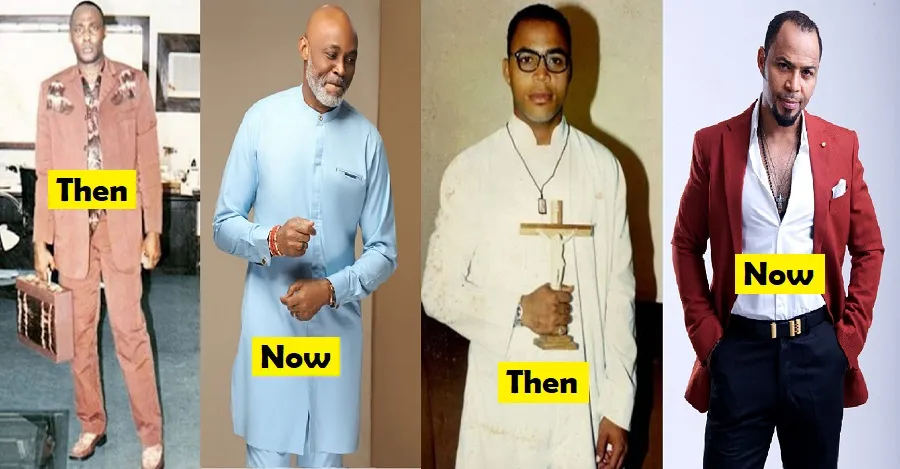 How time flies!
Life is really funny. When young people are young, they wish so dearly to get older because they crave independence and want to do 'adult things'. Older people long for youth because they miss the simplicity of that time as well as their youthful vibrance and energy.
People want to get older but so many are afraid of actually "aging", everybody wants to be young forever. But science hasn't quite reached that level yet – and that is nothing to cry about.
Today, we'll be taking a trip down memory lane and we'll be looking at throwback pictures of 13 older Nigerian actors. These pictures are proof that there is nothing to be afraid about when it comes to aging. These men looked really good when they were young and they still look amazing today. Are you ready to take a trip down memory lane? Then let's go!
1. Olu Jacobs
Nollywood titan Olu Jacobs has been in the industry for a very long time. Olu blessed us with a number of Nollywood classics like Ashanti, The Dogs of War, Oloibiri and more. Olu is now 79 years old. Here are two pictures of him from many years ago.
2. Clem Ohameze
Clem Ohameze is responsible for blessing us with such movies as Oganigwe, A Cry for Help, Ije, and more. Clem is now 56 years old. Here is a throwback photo of the actor.
3. Francis Duru
Francis Duru is a name we don't see as much anymore these days but back in the day, Francis ruled our screens. He is still such a beloved actor and was even then. Here is a picture from many years ago of Francis starring as Ahanna in the original Rattlesnake movie.
4. Emeka Ike
Emeka Ike that year caused a lot of hearts to vibrate. In his village roles or city roles, Emeka Ike was often a lover and his undying affection for his female leads always got Nigerian audiences swooning. Emeka Ike doesn't really act anymore but he's still abreast with current affairs. Here are two throwback photos of Emeka Ike.
5. Chidi Mokeme
Chidi Mokeme is one actor who, although he starred in mostly action and thriller movies, still captured the hearts of so many. Chidi Mokeme at the time, regardless of if he was playing the hero or villain had audience members fawning over him. All these years later, Chidi still got it. Here is a throwback photo of the beloved actor.
6. Desmond Elliot
Another man that caused quite the storm when he broke into the scene is Desmond Elliot. Desmond acted in a lot of romantic movies and he always captured the hearts of audiences. All these years later, Desmond still got it. Here are some throwback pictures of the actor.
7. Ernest Obi
Ernest Obi has starred in such movies as Rattlesnake, Mummy Why, Idemili and more. We don't see him as much on screen these days but he's still so beloved. Here is a throwback picture of the beloved actor.
8. Ramsey Nouah
Ramsey Nouah is still very much acting and producing these days. He is one of Nollywood's biggest talents and has been for so many years. Here are two throwback photos of the beloved actor.
9. Richard Mofe-Damijo
Richard Mofe-Damijo fondly referred to by fans and colleagues as RMD is a Nollywood legend who is still acting and melting hearts today. RMD turned 60 last year. Here are two throwback photos of the beloved actor.
10. Fred Amata
Another Nollywood screen legend is actor Fred Amata who got a number of women swooning that year. Fred is a very talented actor and even after all these years, he still looks incredible. Here are some throwback photos of the beloved actor.
11. Yemi Blaq
Yemi Blaq is another actor that came onto the scene and quickly became very beloved. Yemi is an amazing actor and over the years has blessed us with a number of amazing movies. Here is a throwback photo of the beloved actor.
12. Mike Ezuruonye
Mike Ezuruonye captured the hearts of many Nigerian viewers when he burst into the Nollywood scene. His light skin and lover boy roles quickly made him one of the most sought after actors in Nollywood and left an imprint on the hearts of so many. All these years later, Mike is still looking as amazing as ever. Here are some throwbacks of a young Mike Ezuruonye
13. Pete Edochie
Nollywood lion Chief Pete Edochie burst onto the scene when he starred as Okonkwo in the very important in Nollywood history movie, Things Fall Apart. It was an amazing role that was followed up by an amazing career in Nollywood. Here is Chief Pete Edochie from many moons ago.