Checkout 10 Popular Female Celebrities With Insane Makeup Transformations (Photos)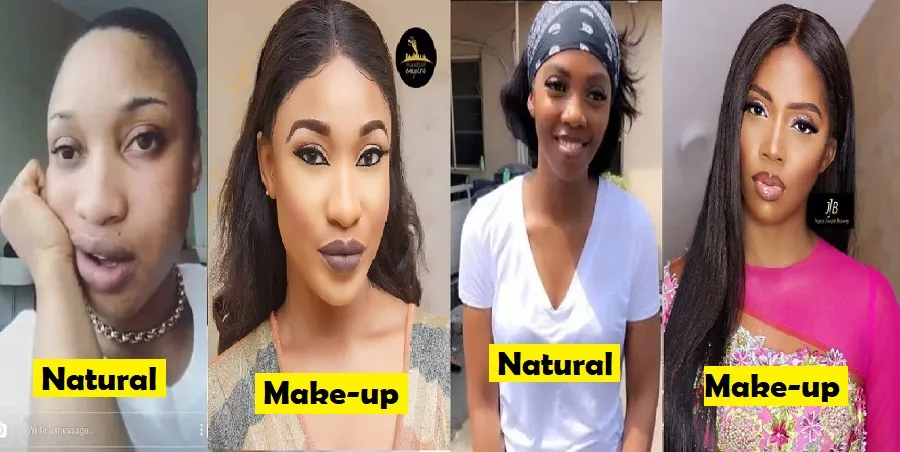 The differences are crazy.
We love our celebrities. One of the many reasons we love our celebrities is the image they give us. They give us looks that we don't expect our everyday person to rock. Their outfits are over the top. Their hair and makeup is over the top. And we allow it, and we talk about it, and we love or sometimes hate their choices, but all the same they get us talking.
But as much as these celebrities love to sell us these over-the-top images and picture perfect Instagram feeds, at some point or the other, the makeup must come off. Last last, the wig must be removed, the lipstick wiped, the eye pencil cleaned.
And once that happens, under all those layers and layers of makeup, sometimes what we see after it's all taken off is a different person entirely. Someone we might not even recognize.
There are so many names to go through. Today, I've whittled it down to 10. Are you ready to see some interesting celebrity transformations?
Alright then, let's go!
1. Tonto Dikeh
Nollywood actress Tonto Dikeh is known for glamming it up wherever she goes. Most of the time, even out and about in the candid pictures we see, the Celebrity Marriage actress always has on a full face of makeup and if you catch her on the streets, large sunshades to match.
Here she is when all that makeup is removed. What do you think?
2. Anita Joseph
Time No Dey singer and Nollywood actress, Anita Joseph, is also known for making an effort to look good whenever she appears in front of the camera or on her social media. The singer caused quite a stir when pictures of her without any makeup hit the internet.
What do you think?
3. Chidinma
Nigerian singer Chidinma or as some fans call her Miss Kedike is a natural beauty. She's looked good with minimal makeup, she looked good when she cut her hair. In fact, she is praised for her simplistic style and look.
Here she is with no makeup. What do you think?
4. Ini Edo
Ini Edo has been acting for a very long time. In a lot of movies, she has to play the role of the seductress, and that of course means sexy outfits, heavy makeup, etc.
When all that makeup is removed, what do you think? Still seductress?
5. Yemi Alade
Shekere crooner Yemi Alade popularly known by some fans as Mama Africa is all about that no makeup life. She constantly puts pictures of her bare face all over her social media, and sometimes even takes it all off for interviews and press runs.
What do you think of her with no makeup on?
6. Niyola
Toh Bad singer Niyola is another Nigerian beauty. The singer oozes sex appeal in all her songs and music videos. From the tone of her voice to the visuals she makes for them.
She's posted some images with all of her makeup gone. What do you think?
7. Waje
R&B singer, Waje, is another one of Nigeria's finest. An actress, singer, and spokesperson for many brands, Waje has to always be glammed up whenever we see her. But after hours, when she takes off her hair and makeup, what do you think?
8. Rita Dominic.
Rita Dominic is the face of Nigerian makeup company, Zaron Cosmetics, so you can tell she not only owns but also has to wear a lot of makeup all the time. Rita, one of Nigeria's veterans, has been turning heads since she broke unto the scene in her debut movie role. When she posted pictures of her without any makeup, she once again caused heads to turn.
What do you think. You like?
9. Toke Makinwa
Popular On-Air Personality, host, and socialite, Toke Makinwa is a woman that I have up until this day only ever seen with makeup on. It's her brand to be glammed up at all times.
But for the first time since seeing her, here she is without makeup. What do you think?
10. Tiwa Savage.
Number one African bad girl, Tiwa Savage has a reputation to maintain. Of course that means that for most times when we see her, she has to be glammed up. Her hair right, makeup right. But what do you think of Tiwa Savage without makeup. Still number one African bad girl?