Check Out 7 Nigerian Celebrities' You Didn't Know Were Previously Married (Photos)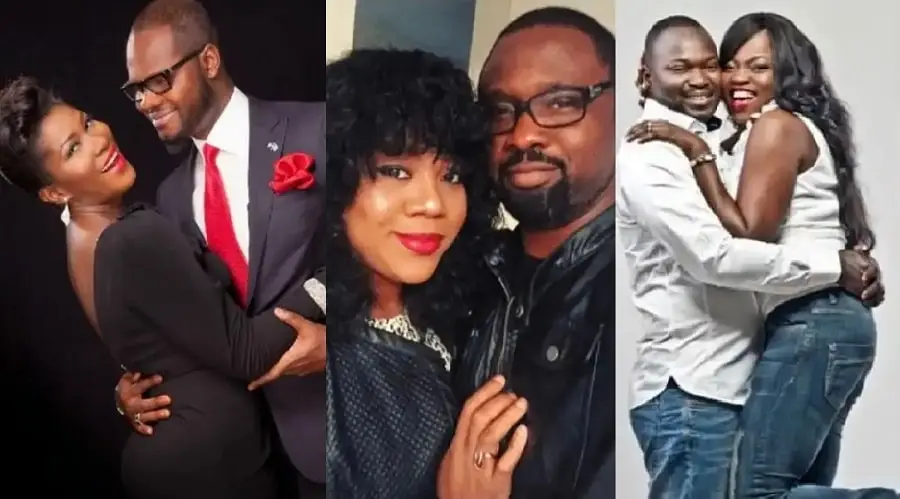 Love is complicated. For everybody. Rich to poor, regular to famous. It is a complicated thing that takes many tries to get right. Most times this kissing of different frogs happens in the dating stage, but for some people they find someone who they think is the love of life and decide to get married to them, only to find out later that they just aren't compatible.
Those are the people we're looking at today. People who tried their hand at love, and walked down the aisle once upon a time in their life.
For some of these people, they've gone on to re-marry and find new lives in love, while some others remain single and focusing on other parts of their lives. To not miss out on any of my new stories or articles, please be sure to like and follow me on Facebook. Now without further ado, here is the list.
1. Monalisa Chinda and Tony Obieri
The marriage according to Monalisa was very violent. She had no intention of leaving him. In fact, she didn't believe in divorce or separation. She wanted to fight. But according to her, when the slapping and the beating became too much, so much so that one day he beat her to the point when the neighbors had to shout "Ah ah, is it everyday?", that was when she knew it was time to go.
Couple that with the fact that this was all happening in front of their daughter, Tamar. Monalisa said she couldn't continue that way. So the next morning, she took her and Tamar's things and left to go stay with a friend.
2. Stephanie Okereke and Chikelue Iloenyosi
Many people don't know this now because Stephanie is popular for going from Stephanie Okereke to Stephanie Linus, but before she became a Linus, Stephanie was in another marriage with former Super Eagles' player, Chikelue Iloenyosi. 8 years later, the marriage ended because Iloenyosi was allegedly still legally married to another woman in the United States when he got married to Stephanie. Stephanie later went on to find love again and in 2012, she got married to her current husband, Linus Idahosa and in this union, they've been blessed with 1 son.
3. Stella Damasus and Jaiye Aboderin.
This story tugs on the heart string. Earlier on in her life, Stella Damasus got married to her husband Jaiye Aboderin who she really loved. Together, God blessed them with 2 children and all was going well. That was until December 3rd, 2004 when Jaiye aged 33 went out to play basketball with his friends. There, he died. News of his death spread around Nigeria and Stella's grief was felt across the nation especially breaking the hearts of Nigerians everywhere when in 2006 she appeared in the movie, The Widow, which came out after his death. In that movie, she played a woman whose husband died and following his death, had to go through dehumanizing and horrible suffering at the hands of his in-laws and his community.
4. Fred Amata and Agatha Amata
Earlier on in his life, Fred Amata got married to then wife, Agatha who was the host of a TV show called Inside Out. The marriage produced 2 children. But unfortunately, the romance wasn't meant to last and years after their wedding, Fred and Agatha filed for divorce. Fred later went on to have a brief romance with Nollywood actress Ibinabo Fiberesima and this union produced 1 child. Fred hasn't remarried since Ibinabo.
5. Funke Akindele and Kehinde Almoroof Oloyede
Funke Akindele in 2012 got married to real-estate tycoon, Kehinde Almoroof Oloyede. At the time of that marriage, Funke was under fire because Kehinde had allegedly been married at the time when Funke met him, and thus she was branded a "home wrecker". The marriage was short lived ending after just 1 year and some days. Following their divorce, Funke plunged herself into her work. Her success and fame shot through the roof, she launched her mega-successful TV show, Jenifa's Diary, and later on in an episode, we the general public got our first unofficial introduction to Funke's new man, Abdulrasheed Bello aka JJC.
6. Emeka Ike and Suzanne Rero
Emeka Ike's marriage to his first wife Suzanne Rero is one that we didn't hear much about during its run, but plenty after its end. In 2015 when Suzanne filed for divorce, the stories didn't stop. She accused Emeka Ike of domestic violence, refusing to let her see her own children, and emotional abuse. According to her, she finally decided to file for divorce when one of her children had surgery and she wasn't informed until after the fact.
She decided to file for the divorce so she could once again regain access to her children. Of course Emeka Ike had his own side of the story tell. He said that Suzanne was telling lies. He said he loved her, and never hit her. According to him, it was Suzanne who started acting strange towards the ending of their marriage.
In 2017, the court finalized the divorce and both parties have finally gone on their separate ways. Emeka Ike has since moved on and is now with Yolanda Pfeiffer with whom he has another child.
7. Chika Ike and Tony Ebieriri
Earlier on in her life, Chika Ike got married to then-husband, Tony Ebieriri. Following her divorce, Chika opened up about some of the troubles she had in her marriage, In her 2018 tell-all book "Boss Up", Chika opened up some more about the domestic violence she experienced in her marriage. I'll share with you some excerpts from the book.
Following her accusations, her ex-husband called her "a disgrace" and accused her of lying. In an interview with Pulse TV when asked about the ex-husband's feedback to the book, Chika said:
The beautiful actress has remained single ever since then but says she is open and hopeful for love, and to get married again some day.