Check Out 5 Young Celebrities And Their Older Celeb-Lookalikes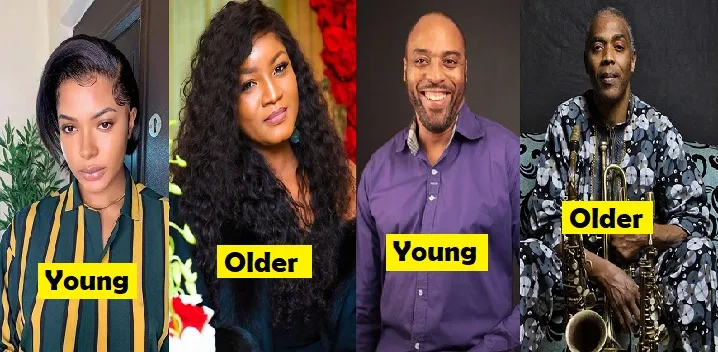 Fans of Vampire Diaries and The Originals can relate to the concept of Doppelgängers. It simply refers to a living person's apparition or double.
While these shows are imaginary, the idea of two people looking exactly alike isn't. We'll look at younger Nigerian celebrities who look like older celebrities we've seen around for a while in this piece.
We may not have paid enough attention to notice the similarities shared by these stars but Jide Okonjo curated some of the celebrities who can pass for twins.
Have at it below:
1. Theresa Ugorji and Genevieve Nnaji
Genevieve Nnaji, a Nigerian actress, is one of the country's most well-known and well-known figures. Genevieve has been a part of the Nigerian entertainment business since 1987, appearing in films such as Love Boat, Sharon Stone, Blood Sister, Games Women Play, Road to Yesterday, Lionheart, and others.
Theresa Ugorji appeared on the Nigerian reality show Ultimate Love as a competitor. On the show, she and her then-boyfriend, Iyke Nnama, finished as the first runner-up couple. The couple apparently ended their engagement in 2021.
Genevieve Nnaji and Theresa Ugorji have quite different lives and are well-known for very different reasons, yet one thing remains apparent to me. These two women have a striking resemblance! It's a dead ringer in terms of resemblance. Is it just me, Abi, who notices it? What are your thoughts?
2. Liquorose and Omotola Jalade Ekeinde
Nigerian actress, singer, producer, philanthropist, and model Omotola Jalade Ekeinde. Under Fire, Die Another Day, Ije: The Journey, A Private Storm, Last Flight to Abuja, Alter Ego, and other films have featured her.
Roseline Afije, often known as Liquorose, is a dancer, choreographer, video vixen, and performer who became first runner-up on Big Brother Naija: Shine Ya Eye season.
These two women are diametrically opposed. However, the similarities between the two are unmistakable. What are your thoughts?
3. Femi Kuti and Kalu Ikeagwu are the third  respectively.
Femi Kuti is a saxophonist, musician, and songwriter from Nigeria. He is also the son of Fela Kuti, the Afrobeats star.
Kalu Ikeagwu is a Nigerian actor who has appeared in films such as 30 Days, Games Men Play, Beneath Her Veil, Lionheart, The Waiting Years, and others.
Despite the fact that these two men work on opposite ends of the entertainment industry, they have an amazing resemblance. What are your thoughts?
4. Lilo Aderogba and Shaffy Bello
Shaffy Bello is a Nigerian actress and singer who has appeared in films such as Gbomo Gbomo Express, Hire a Man, Three Thieves, Mama Drama, Chief Daddy, and others.
Lilo Aderogba was a Big Brother Naija Season 5 contestant. She is now an actor, a social media influencer, and a performer.
Despite the fact that the two women are extremely different in age and live very different lives, Lilo could easily pass for a younger Shaffy in a movie or in real life. They have a similar appearance. What are your thoughts?
5. Di'Ja and Nneka
Nneka is a Nigerian singer-songwriter who is known for songs such as Heartbeat and My Love, My Love.
Di'Ja is also a vocalist, with hits including Awww and The Way You Are, as well as appearances on Dorobucci, Adaobi, and other projects.
These two women not only work in comparable fields in the music industry, but they also have similar appearances. They could easily be mistaken for sisters. What are your thoughts?