6 Nigerian Celebrities Who LIED About Their Age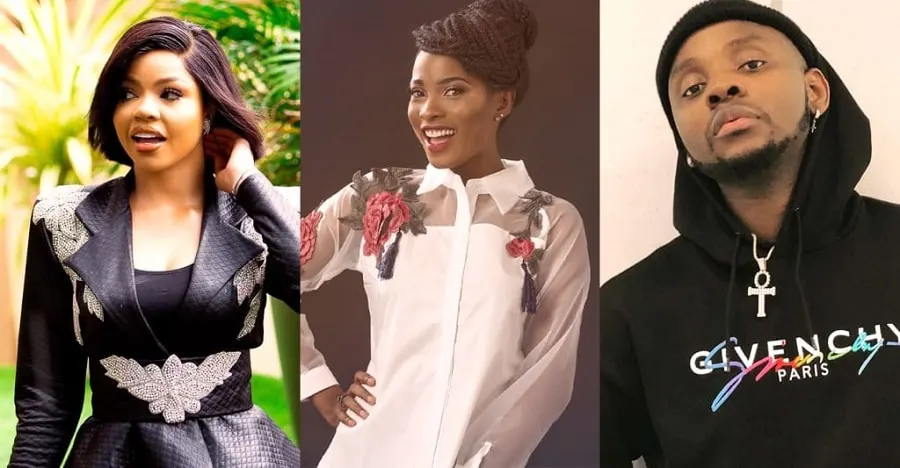 That's what the people on today's list must have thought. Well, as everybody on this list grew to know, age is in fact not just "but a number", it's actually quite important and it's something that people get very critical about when you lie about it.
Also, the popular notion that it is only women who lie about their age is about to be debunked right in front of your eyes in a couple of minutes. Every single person, man or woman, has the capacity to lie about their age, it isn't just a women's thing.
So, are you ready to see 6 Nigerian Celebrities Who Lied About Their Age? Then let's go!
1. Caroline Danjuma
A couple of years ago, beautiful Nigerian actress, Caroline Danjuma's Wikipedia page indicated that the actress was thirty-four years old. So, when her birthday came around, everyone went ahead and wished her a happy 34th birthday. Only for Caroline herself to then come out and say she was 28 years. The whole thing became a fiasco, her Wikipedia page was taken down, but now, the whole thing has been resolved but not without Wikipedia including the whole fiasco in her Wiki page.
Her Wikipedia page now has a category titled "Age Controversy" where it says:
Although many local publications cite her birth year to between 1980 and 1981.] Danjuma has repeatedly stated that she was born on 26 June 1987.
2. Jemima Osunde
In an interview with the NDANI TGIF Show, Jemima Osunde and actress, Linda Ejiofor came on as guests. During a round of 'Never Have I Ever', the question 'Never Have I Ever Lied To Get A Job' came up, and actress Linda was quick to drink her shot.
However, Jemima insisted that she had never lied to get a job. Then, Linda told her "Come on you've lied!". Jemima then asked "What possible lie?" to which Linda said: "Your age!"
Jemima didn't have anything to say, and knowing that she has once lied about her age, she drink her shot.
3. Mr. May D
Around 2012, just after Mr May D was dropped by P-Square and Jude Okoye, rumors started to circulate that it was because Mr. May D was actually eighteen years old.
Rumors come up all the time and so everybody assumed this was one of such and that the singer will quickly come out and squash the rumors – however, Mr May D never came out to clarify the news and till this day has never confirmed his actual date of birth.
4. Halima Abubakar
Another actress who has been up and down this age thing is Halima Abubakar. One minute the actress is 35, the next minutes she's 30. Finally, during an interview with Encomium magazine, when the actress said she'll be turning 30 in 2015, the interviewer called her out on it and asked:
That's incredible because a lot of people believe you're more than that. Some even said you're 35. How come you now say you're just 30?
To which Halima responded:
I will be 30 on June 12, 2015. When you say the truth, people argue. When you lie, they also argue. But I have said the truth, and I really don't know what to do again. But when I came into Nollywood, I had to lie just to fit in because it's an era of aunty, aunty. And I was in JSS II then. So, if people still can't believe that I lied then just to fit in, that means they need a reality check. I am proud of my age.
But that's the truth about my age. Or are you the one who issued me a birth certificate? I am 30 and I am proud of it.
5. Kizz Daniel
Nigerian singer, Kizz Daniel's age matter is one that is quite popular. But if you aren't familiar with it, here's a roundup of it.
It all started in 2016 when the singer did an interview with The Punch in which he stated that he "graduated with a 4.32GPA in 'Water Engineering' from the Federal Univeristy of Agriculture, Abeokuta, in 2013, putting his age, as at the time of graduation, at 18." At the time of saying this, he was publicly 21 years old.
But then one investigator on Twitter got curious and started asking questions. The tweeter said that Engineering is a 5 year course. How could Kizz have Graduated in 2013 and still have been turning 21 the week prior (the year at this time was 2016).
As you can see, the Maths clearly doesn't check out. When Kizz got on an interview with Ebuka Obi-Uchendu who asked about his age, that clip went viral as well because the singer refused to simply state his age saying that a press-release would be made about his age.
Then, his Wikipedia page which once had his birthday listed as 1 May 1994 changed to 1 May 1988 then to 1 May 1987 and now, it's no longer even listed.
I have never seen someone go through such lengths to hide their age and now it begins to make me wonder what exactly he's hiding.
6. Nengi Hampson
BBNaija's Nengi is one that was constantly in the media because of her ever-changing ages.
When the BBNaija housemate said that she was 22 in the Big Brother house, it raised an eyebrow because online, there were pictures from her competing in MBGN 2017 and at the time, she was listed as 23.
Of course questions and eyebrows were bound to be raised.
To cull all doubts and questions, Nengi took to Instagram story and exposed herself by posting a picture of her British passport which has her date of birth listed as 1 January, 1998.
I guess she wasn't lying in the house after all.