Bnaira Net Worth 2023, Age, Biography, Cars & House – Source of income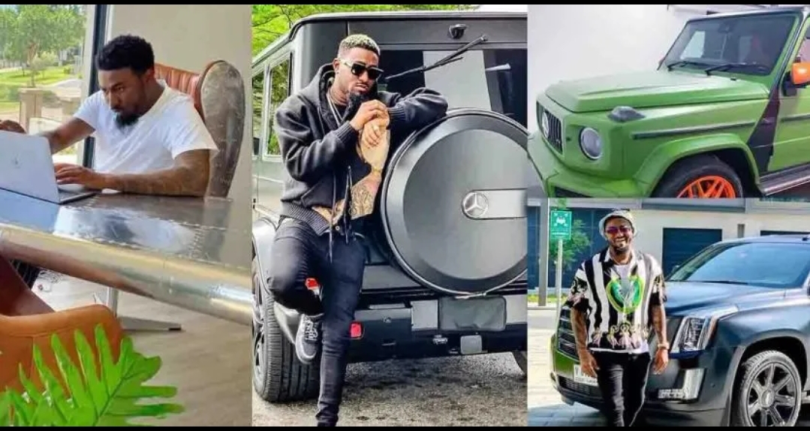 Quite popular for flaunting his wealth on social media pages, and rarely known for singing is BNaira. His real names are Adewale Olalekan Adebayo, a native of Ekiti State, Nigeria. He was born on October 20th, 1988 to Azeez Adewale and Victoria Adewale, who could afford a comfortable lifestyle for their four children. BNaira who is the only son of his parents was a timid and fragile boy while growing up.
BNaira had his Primary School Education in St. Nicolas Primary School, Lagos. After his primary school education, he proceeded to Citizens Comprehensive College, Lagos, for his Secondary school education. After his secondary school education, he attended the University of Lagos for his tertiary education in 2010. He obtained a first degree in Geography and graduated in 2014. After his tertiary education, he enlisted to serve Nigeria for the compulsory NYSC scheme and he served in Oyo State, Nigeria.
In May 2019, he released a single titled 'Fall on me', but he had released some singles like 'Jasi' produced by Kiddominant and 'spray the money' featuring Phenom, and he has some other singles that have rocked the Nigerian airwaves locally.
| | |
| --- | --- |
| Real name | Adewale Olalekan Adebayo |
| Date of birth | October 20th, 1988 |
| Country of Origin | Federal Republic of Nigeria |
| Occupation | Music, Real Estate, Cryptocurrency |
| Net worth | $1 million |
| Business | Sellfastpayfast Ltd, |
Before graduating from UNILAG, BNaira had already towed the entrepreneurial path in Nigeria by establishing some businesses of his own. He created his own record label called BNS records in 2012, he also owned a fashion store, and he worked as a real estate marketer, all which he did while he was a student at UNILAG.  He is also the founder of Sell fast Pay fast LLC, a bitcoin trading platform, and also the owner of a Real Estate Company in Nigeria and Modern Day Furniture. At his record label, BNS records he doubles as the CEO and a recording artist.
BNaira has a son whom he welcomed into the world with his baby mama, Tshego Manche and the two co-parent the child but they are not in a relationship. BNaira likes to keep his family life off social media, but he is notorious for posting images of an exaggerated lifestyle on social media. He credits his affluence to his occupation as a Musician, the owner of a Bit coin company, and his real estate business, but many believe that he dabbles into some other types of shady deals, though nothing has been confirmed.
From his social media pictures, it is evident that his best colour is red, and he has a penchant for the fine things of life.
BNaira Net worth
Although his main source of income is unknown, many believe he deals in shady businesses. But according to popular rumours, BNaira has a rumoured net worth of $1, 000, 000 (N385, 000, 000).
BNaira Cars
BNaira reportedly bought his mom a White Toyota Land cruiser Prado for Valentine's Day and it cost a whopping N18 million.
He has to himself some other luxury cars like Rolls Royce, Range Rovers, Prado's. On his social media pages, his cars are mostly coloured in red.
BNaira House
The number of houses BNaira owns is unknown but it is rumoured that he has many houses littered all over the country and abroad. He also travels a lot, so no one knows the exact location of his house.
BNaira Wife
BNaira welcomed a bouncing baby boy with his baby mama in August and she is a South African Socialite, known as Tshego Manche (@msmanche on Instagram).
Tshego Manche was Born in Klerksdorp, a small town in the North West Province of South Africa, Tshego Manche was raised in a business-oriented family. Her parents owned a salon and cosmetic store in the township for over 20 years before venturing into other businesses – forbesafrica
The post Bnaira Biography, Net Worth, Cars & House 2022 – Business he owns appeared first on Latest car news, car blog news in Nigeria, car import duties in Nigeria, latest car release.