Allen Onyema Net Worth 2023, Age, Cars, Biography, House – Air Peace CEO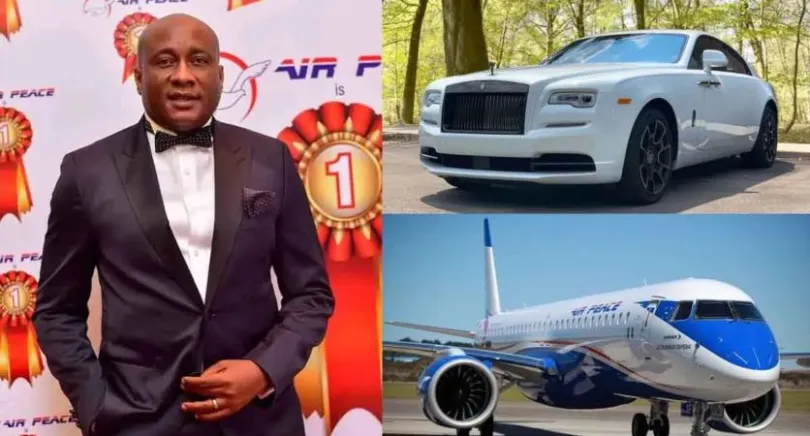 While some Nigerians desire that Nigeria should split because of racism or ethnic differences, yet there is a man who is very passionate about maintaining peace amongst ethnic groups. He has been tagged 'Conflict Resolution Expert'. In this article, we bring you everything you need to know about this man who has won the heart of Nigerians as a result of his philanthropic arts. His name is Allen Ifechukwu Onyema.
Allen Onyema Net Worth 2022, Age, Cars, Biography, House:
| | |
| --- | --- |
| Real name | Allen Ifechukwu Onyema |
| Date of birth | 28th March 1964 |
| Nationality | Nigerian |
| Source of Wealth | Businessman |
| Net worth | ₦3.1 billion |
| Wife | Alice Ojochida Onyema |
Allen Onyema Biography
Allen Ifechukwu Onyema was born on 28th March 1964, in Benin to the family of Michael and Helen Onyema Though he spent most of his years in Benin and the west part of Nigeria, Allen Onyema He hails from the Igbo-speaking part of the country; a town called Mbosi, in Ihiala Local Government Area of Anambra State.
Allen Onyema  Education
He attended several primary and secondary schools including St. Anthony's Secondary School, Azia, Urhobo College Effurun and the prestigious Government College Ughell. Having obtained a direct admission, to study law in the University of Ibadan in 1984, Allen Ifechhukwu promptly packed his bags for the West. Three years later, he joined the Nigerian Law School before being called to the bar a year later.
Allen Onyema Career
Allen Ifechukwu Onyema wanted to forge his path, but there were a bit of constraints from his family. His family would love him to work for an Oil and Gas company. In fact, his uncle Capt. J.O.W. Onyema, who was a master marina, was willing to help him secure a job at Shell; an Oil and Gas company.
But, Allen wouldn't give heed. Well, who knows, maybe he wouldn't have been influential and well-known as he is today. In 1990, Allen Ifechukwu moved to Lagos. It was tough at the beginning, as he had to squat for a period of time in Oshodi, Lagos .
After a while, good fortune smiled on him. He met late Chief Vincent Amobi Nwizugbo, who employed his services at his chambers in Martins Street, Lagos Island, who promptly gave him a job of N 500 monthly salary when he won a high court case.
In two years, Allen Onyema has become skillful in his profession that Chief Vincent made him Head of Chambers. As at this time, Allen Onyema has made real headway in the real estate business. He thrived so much that he had to quit working with Chief Vincent, as well as dissolve a number of businesses he had started at that time.
Air Peace Airline
Allen Ifechukw Onyema is popularly known as the Founder and Chairman of Air Peace Airline, a private flight servicing agency, which he founded in 2013. According to him, he founded the airline to create more job opportunities for Nigerians. The airline remains one of the thriving commercial airlines in Nigeria touring both major cities in Nigeria as well as international countries including Ghana, United Arab Emirates, Senegal, Sierra Leone, China, USA, India, and the Gambia.
As at the time when he founded Air Peace, Allen Ifechukwu Onyema also established his own firm and an import trade outfit known as Continental Business Links Ltd.
Philanthropic Acts
Allen Ifechukuw Onyema has done numerous philanthropic acts which have showcased his passion to sustain peace. When he was at the University of Ibadan, together with 9 of his colleagues, he went to resolve a religious and ethnic riot in Zaria. From the move was born Eminent Friends' Group – with the singular aim of ensuring unity amongst Nigeria's diverse ethnic nationalities and eliminating violence from the country. Currently, the organization is known as Foundation For Ethnic Harmony In Nigeria (FEHN), headed by Allen Onyema.
Allen Ifechukwu also did a very noble act that has endeared him to Nigerians when he offers free flight to Nigerians in South Africa during the Xenophobic attack.
Allen Onyema Award
Such good works won't go unrewarded and unnoticed. Amongst the awards Allen Ifechukwu has received includes:
Africa Leadership Merit Award from Africa International News Magazine (2006).
Martin Luther King Global Award for pioneering Nonviolence Education in West
Africa (2007). Hope for Humanity Award from the Rotary Club.
 L&M leader of the month award for demonstration of compassion and meeting a need (2019).
Allen Onyema Family
Allen Ifechukwu Onyema married early at 27 to the love of his life, an Igala woman from Kogi state, Alice Ojochide Onyema. In 1993, shortly after his mother's death from kidney failure in1993. The union has produced four children; a girl and three boys.
Allen Ifechukwu Onyema Net Worth
Allen ifechukwu Onyema has an estimated net worth of ₦3.1 billion
Allen Onyema Cars
Allen Ifechukwu Onyema is a bit conservative about his cars, but he has been spotted with different fleets of cars like Rolls Royce, Mercedes-Benz G-Class, Landcruiser Prado, and 2019 Toyota Hilux and airplanes. Well, he is the CEO of Air Peace Airlines so what else do you expect him to own.
Allen Onyema Rolls Royce
Truly in Nigeria what makes you a complete billionaire is owning one of Rolls Royce, Rolls-Royce is widely recognized as a coachbuilder of ultra-luxurious cars for ultra-wealthy folks, and the Rolls-Royce Wraith represents the entry point into that exclusive world.
Mercedes-Benz G-Class
The Mercedes-Benz G-Class, sometimes called G-Wagon is a mid-size four-wheel drive luxury SUV manufactured by Magna Steyr (formerly Steyr-Daimler-Puch) in Austria and sold by Mercedes-Benz. Mercedes-Benz G-Class is one of the best luxury large SUVs you can buy. Elegant, powerful, refined, and adventurous
Toyota Prado is a full-size four-wheel-drive vehicle in the Land Cruiser range. It is produced by the Japanese car maker, Toyota. The Prado is one of the smaller vehicles in the range. Since 2009, the Prado is based on Toyota's J150 platform.
It's said he has seven airplanes which he named after his family.
The executive jet has Michael on it. That's his dads' name.
Boeing 737  has HELEN EKWUSI ONYEMA on it. That's his late mum's name.
The other Boeing 737 has ALICE OJOCHIDE ONYEMA on it. That's his wife's name.
The first four B737 have on them names of his 4 children namely; Nnenna– after his first child and daughter, Chinonso– after his first son, Obinna – after his second son and Ugochukwu – after his last son.
Air Peace Takes Delivery Of 8th ERJ-145 Jet
Allen Onyema House
As at the time of this writing, there is no public record of his house. However, we suppose he has a house in Lagos.
CONCLUSION
Allen Ifechukwu remains a noble figure for Nigeria, With the acts of bravery and peace advocacy he has shown so far, we can believe Nigeria has a promising future.
The post Allen Onyema Net Worth, Cars, Biography, House – Meet Air Peace Founder appeared first on Latest car news, car blog news in Nigeria, car import duties in Nigeria, latest car release.