All You Need To Know About Olamide Net Worth, Age, Cars, Houses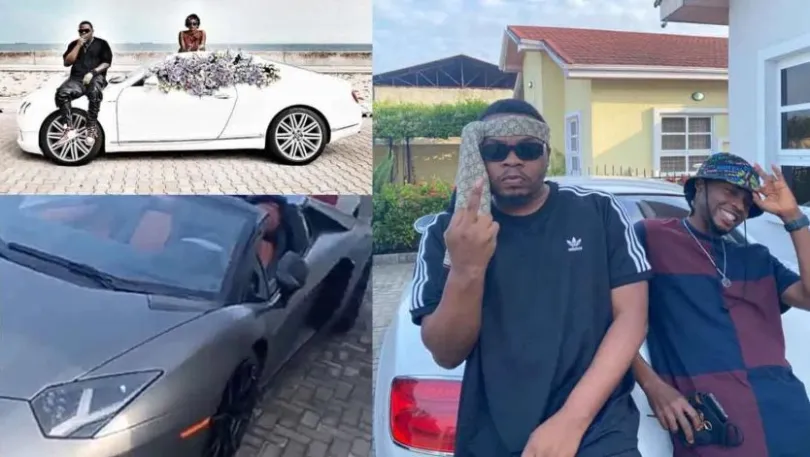 Popular Nigerian singer Olamide is one among many other fast rising stars. The "Baddo" master sure knows how to make his fans happy by giving them good and entertaining music.
Popularly known as "Baddo" or "Baddosneh", Olamide whose full name is Adedeji Olamide was born and raised in Bariga, in the city of Lagos on the 15th of  March 1989. He is one of the most promising music artists in Nigeria. He also goes by other stage names which include "Baddo", YNBL, Young Erikina, and Baddest Boy Ever Liveth". It's no doubt that Olamide belongs to a clique of young musicians that are taking Nigerian music to the next level.
nd Biography
| | |
| --- | --- |
| Real name | Olamide Adedeji |
| Date of birth | 15 March 1989 |
| Country of Origin | Federal Republic of Nigeria |
| Source of Wealth | Music Endorsement |
| Net worth | ₦4.7 Billion |
Born in Bariga, Lagos State on the 15th of March, 1989. The Baddo boss  decided to pursue a career in music in 2000. When asked why music, he said: "I found out I was gifted in it so I had to explore it. It's my life, my hustle, my world". Baddo Sneh started with ID Cabasa's coded Tunes record label headed by Toni Payne where he did his first studio album. He left in 2012 to start his own record label. He released his first single 'Eni Duro' under the coded Tunes label and was managed by Toni Payne. Olamide later performed at the hip-hop world awards ceremony that same year.
YBNL nation (Yahoo Boy No Laptop as the name implies basically refers to a young man making good money without engaging in any form of online scam) is a street oriented record label founded in 2012.
Also Read: Olamide Acquire Lamborghini Worth Over N218 Million
Unknown to many, YBNL firstly came out as a group which was co-founded by Olamide Adedeji (Baddo) and his then friends Kayode Odesanya(Kida Kudz) and 2kriss in which a track was released titled ROAD TO YBNL.
His debut studio album 'Rapsodi' was released in 2011, while signed to Coded Tunes label. His second album, YBNL, was released on 12th November 2012 under his own label of the same name, "YBNL." So far he has released 8 studio albums including; Baddest Guy Ever Liveth (2013), Street OT (2014), 2 Kings (2015), Eyan Mayweather (2015), The Glory (2016), and one compilation, "The Best  of Olamide."
One notable aspect about the music done by Olamide is the fast-paced rap with a mix of both traditional raps.Olamide's music does well to bring out a deep cultural aspect of Nigerian culture to anyone that listens to it. The music focuses on his background and upbringing and this makes it easy for many people to reflect on the music. People from the high life society, professionals, students, market traders, as well as ordinary well-meaning Nigerians appreciate the young man's music.
Olamide Baddo makes cool money from numerous endorsement deals which has seen his worth increase in recent times.
Check: Obafemi Martins Show Off His N176M Yacht, N87M Bentley Bentayga & N35M G-Wagon
The YBNL boss has secured endorsements with different top companies. These endorsements are worth millions  of naira and it's no doubt that it has a positive effect on the singer's wealth. Some of these companies include, Peak milk,  Guinness, Etisalat and many others.
Olamide Awards
Olamide has won several music awards amidst lots of nominations, just to mention a few;
Nigeria Entertainment Awards
Best Collabo (Ghost Mode by Phyno featuring Olamide);
Best Indigenous Artiste;
Best Album of the Year;
Best Rap Act of the Year;
Music Video of the Year.
Olamide Cars collection 2020
The singer is known to have 4 brands of luxurious cars namely.
Lamborghini
Popular Instagram blogger Gossip Mill Nigeria took their Instagram page to share the goodnews: Rapper Olamide Just Reportedly bought a Lamborghini aventador worth over N218million and did not even Make any Noise!!! Big Congrats to Baddoo Sneh!!! 
Olamide Acquire Lamborghini Worth Over N218 Million
Olamide Toyota Camry
(about NGN4 million), 2. Range Rover Sports (about NGN15 million),
Olamide Range Rover V8
Olamide Mercedes-Benz G Class
(aka G-Wagon; about NGN23 million).
Olamide Rolls Royce Phantom
Olamide House
Real estates and having landed properties, is one way of piling wealth, apart from expensive cars, Singer Olamide also owns a good number of landed properties or houses in the vibrant city of Lagos.
Olamide is engaged to his long time lover and they both have a son together.
Also Read: Top 11 Richest Musicians In Nigeria: Cars, Houses & Net Worth
Olamide net worth
Not all were born with a silver spoon, Olamide is one of such and thus grew up on the streets of Lagos faced with a hard and challenging life with only a dream of making it big one day. We can confidently say that the champ has indeed broken forth and currently living the dream. He is currently worth an estimated ₦4.7 Billion which is not bad at all.
The post Olamide Net Worth, Cars, and Biography 2022 appeared first on Latest car news, car blog news in Nigeria, car import duties in Nigeria, latest car release.