Adedeji Adeleke (Davido Father) Net Worth 2023 , Age, Cars, Houses, Private Jet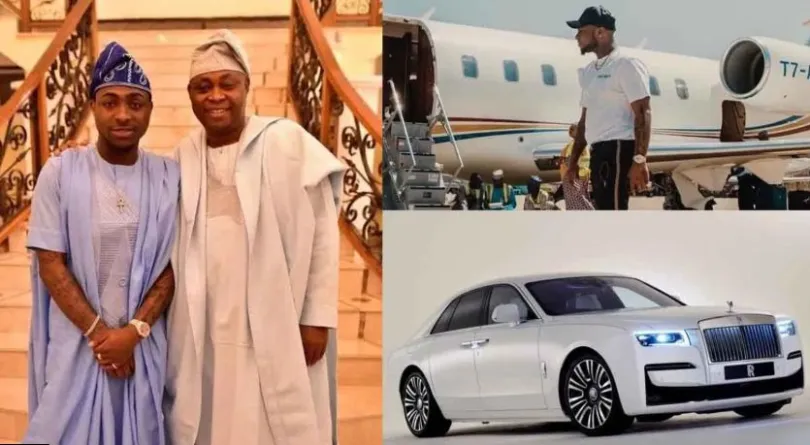 The Adeleke surname is not foreign to many Nigerians, it is a name that is known across many industries in Nigeria. You have probably heard about it in Politics, Education, Business, Religious, but most popularly in Entertainment. If you thought about Davido, then you are not far from the answer.
We are all aware that Davido refers to himself as "Omo Baba Olowo", which means Son of a rich man. The rich man is his biological father, Adedeji Adeleke. If a Davido, a 30 billion Gang Member can still latch on to the popularity of his father's wealth, then his father must be very rich in all senses.
Adedeji Adeleke (Davido Father) Net Worth 2022, Age, Cars, Houses, Private Jet:
| | |
| --- | --- |
| Real name | Adedeji Tajudeen Adeleke |
| Date of birth | 6 March 1957 |
| Country of Origin | Federal Republic of Nigeria |
| Source of Wealth | Real Estate and Businesses |
| Companies |  Adeleke University, Pacific Holdings Limited |
| Net worth | $700 million (estimated) |
Adedeji Adeleke Biography
Adedeji Tajudeen Adeleke was born on the 6th of March 1957 to Mr. Raji Ayoola & Mrs. Esther Nnenna Adeleke in Enugu State. Adedeji Adeleke lived in Enugu State with his maternal Grandmother but had to move to Lagos to start his Primary School Education when he was of age. He attended Ansar-Ud-Deen Primary School from 1965 to 1970, and when he graduated in 1970, he proceeded to Seventh-Day Adventist Grammar School in Osun State for his Secondary School Education.
He obtained his West African School Certificate (WASC) in 1975 and went ahead to gain admission into the Western Kentucky University, Kentucky, the USA in 1976. He gained admission abroad while he worked briefly at the Federal Ministry of Education. In 1979, he obtained a Bachelors's Degree in Finance and then enrolled for an MBA in 1979, which he completed in 1981.  He then went ahead to bag a Ph.D. degree at Pacific Columbia University, California in International Business.
After fortifying himself with the best standard of education he could have at the highest level, he returned to Nigeria to participate in the Nigerian National Youth Service Corps Scheme. After acquiring all his degrees, he went ahead to establish Pacific Holdings in December 1983. He created Pacific Holdings through Pacific Drilling Company Limited, specializing in geographical surveys, water treatment, drilling of bore holes and many more activities. The company was later incorporated from a Limited Liability Company on the 28th of December 1990. Pacific Holdings is now into Energy & Power generation and Freight services.
In 1996, Adedeji Adeleke established a non-profit NGO called Springtime Development Foundation (SDF) with the aim of bettering the lives of many Nigerians through Education, with himself being a lover of Education. In March 2011, he received the national license to run operations in his University- Adeleke University in Osun State. He got married to a University Lecturer, Veronica Imade, who passed away at the age of 39 years in 2003.
In 2007, Adedeji Adeleke enrolled to receive another PhD degree in Business Administration from the University of Phoenix in Arizona, and in 2010, he received his degree. He is the current Pro-Chancellor of Adeleke University and also the CEO of Pacific Holdings Ltd. His elder brother, Isiaka Adeleke was a former Governor in Osun State.
Adedeji Adeleke Net Worth
He is often referred to as the richest man in Osun State, one of the richest in Nigeria, and one of the most successful businessmen in Nigeria. He is the owner of many business enterprises in Lagos. He has several investments in Nigeria in sectors like Banking, Real Estate, Entertainment, Securities, Education, etc.
Adedeji Adeleke is estimated to have a net worth of about $700 million (N268, 961,000,000).
Adedeji Adeleke Cars
As a billionaire in Nigeria, the acquisition of luxury cars and goods should not be a hassle especially if your family name screams money. Coming from a place of affluence, Adedeji Adeleke has been the owner of many cars, including the cars his children have bought for him.
Adedeji Adeleke like his son Davido is a lover of good things and does not escape the chance of splurging especially when it comes to cars. He has been seen riding in many luxury cars, but the two most expensive cars that he has and is mostly always seen in are the 2017 Bentley Mulsanne and a Rolls Royce Phantom.
2017 Bentley Mulsanne:
This luxury car has one of the most interesting launching pads in the automobile industry. It has a 6.8 litre V-8 engine and a 505 horse power. Some of its inbuilt features are apple car play, Android Auto, in-car 4G LTE data connection, 60GB of media storage, electric curtains, LED headlights and so many inbuilt features that make it luxury. It currently costs about $350,000 (N134, 480, 500) for a brand new one.
Rolls Royce Phantom:
Running on a 6.75 Litre twin-turbocharged V-12 engine, this beauty has a horsepower of 563. The price for a Rolls Royce Phantom begins at $450,000 (N172, 903, 500).
Adedeji Adeleke Private Jet
In 2018, there were many social media stories and news posts that Davido himself had acquired a new private jet. To convince the public, he posted some pictures on his social media pages showing him in the jet.
Also Read: Who Is Sir Olu Okeowo, His Cars Collection & Net worth
Unbeknownst to us, the real owner of the Bombardier Global Express 6000 is Adedeji Adeleke, while Davido was using it to make his commuting to other African countries easier. The Private jet costs a whopping $62 million (N23, 822, 260,000), wow!
Adedeji Adeleke Houses
Let me start this section by asking, "are you even a rich man in Nigeria, if you don't have a property in Ikoyi?'
Well, the answer to that is No. If you want to label yourself a rich man and talk more of a Billionaire, you must be willing and ready to acquire at least one property in Ikoyi, Lagos, even if it is just a one-storey building.
As a well-recognized Billionaire, Adedeji Adeleke is the owner of many properties spread across Nigeria and abroad. For his 60th birthday, he acquired a mansion in Atlanta, USA, and even in Nigeria, he has properties scattered around Osun State, Banana Island, Ikoyi, Lekki, Lagos, Victoria Island, and urban areas in Lagos State and other neighbouring states.
The post Adedeji Adeleke (Davido Father) Net Worth, Cars, Houses, Private Jet appeared first on Latest car news, car blog news in Nigeria, car import duties in Nigeria, latest car release.