9 Popular Celebrity Weddings That Crashed Because of Cheating (See List)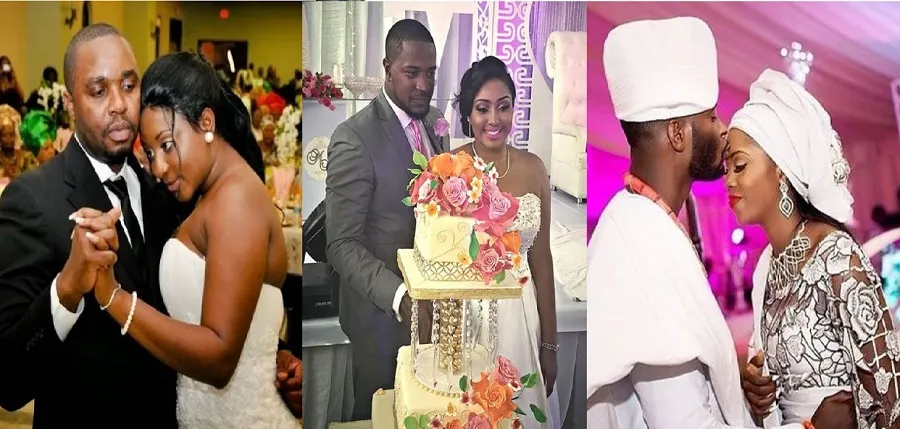 "Till death do us part…or till you cheat."
Divorce rates according to statistics are at the highest rates they've ever been. In today's world of unending "options" thanks to social media and dating apps, even married people are finding it hard not to indulge in scrolling and swiping at these options. Sometimes, these secret messages get exposed as you'll see below, and sometimes, one half of the marriage walks in on the other half cheating.
Either way it goes, today I will be counting down 9 Nigerian Celebrities Whose Marriages Crashed Because of Cheating/Infidelity. Are you ready? Let's go!
1. 9ice
As recently as last month, Nigerian singer 9ice was in hot water when video of him f.0.n.d.ling the c.h.e.st of an unknown woman hit the internet. Ordinarily this wouldn't have been an issue if 9ice were single – however, the singer is not. He is barely one year into his latest marriage with his newest wife, Olasunkanmi Ajala.
Following the video leak, the singer came out to plead with the public to beg his wife to take him back. What a mess!
2. Stephanie Linus
Before Stephanie Okereke became Stephanie Linus, she was in another marriage with former Super Eagles' player, Chikelue Iloenyosi.
8 years later, the marriage crashed because it turned out Iloenyosi was allegedly still legally MARRIED to another woman in the United States when he got married to Stephanie.
Stephanie has since gone on to find love again and in 2012, she got married to her current husband, Linus Idahosa and in this union, she's been blessed with 1 son.
3. Toke Makinwa
In 2014, media personality Toke Makinwa tied the knots with then-husband, Maje Ayida.
Barely 2 years into the marriage in 2015, the internet was rocked with news that Maje had not only stepped out but also impregnated another woman by the name of Anita Solomon while still being legally married to Toke.
Unsurprisingly that event caused the marriage to crash and in June of 2016, Toke filed for divorce.
4. Tonto Dikeh
One of the most ugly and most documented Nigerian celebrity breakups is the breakup between Tonto Dikeh and her ex-husband Olakunle Churchill.
Following the crash of their marriage, Tonto talked about many of the issues she faced within her marriage – one of them being infidelity.
In an interview with Daddy Freeze, she said that she never thought that Churchill would cheat on her because according to her, he suffered from premature ejaculation and so she was shocked when he eventually started sleeping around because according to her, she didn't understand how he planned on satisfying multiple women when he couldn't even satisfy the one.
5. Ini Edo
In 2014, Ini Edo's marriage to her then-husband Philip Ehiagwina came to a crashing end. The actress took to social media to say that she was the one who actually opted for the divorce citing irreconcilable differences, but shortly after that, family of the groom came out to tell Ini to "shut her mouth before they exposed her."
A family member of Philip speaking to Pulse Nigeria said:
Ini Edo should shut up about the marriage crash because with the way she is going by trying to paint Phillip as the wrong party, we may be forced to open her can of worms and it will not be palatable to her and her career.
I can tell you that Ini Edo is a serial cheat who played the field behind her husband's back for the duration of their marriage. Is she going to deny she was dating one Island big boy whose girlfriend organised her friends to beat her up and injured her?
Yikes!
6. Juliet Ibrahim
Juliet Ibrahim in 2010 was married to Ghanian businessman Kwadwo Safo but that marriage came crashing down and by 2014, they were officially separated. Juliet attributes the split to her ex-husband's infidelity and meddling in her career.
7. Tiwa Savage
Another well-documented and very public Nigerian celebrity marriage breakup was the breakup between Nigerian singer, Tiwa Savage and her ex-husband TeeBillz.
TeeBillz came out in a rant in 2016 to accuse Tiwa Savage of being unfaithful to him saying that she slept with Don Jazzy, Dr. Sid, and even 2 Face. Tiwa denied the accusations in an interview with Pulse Magazine saying that in fact, it was TeeBillz who cheated on her.
The whole thing became very messy and eventually both parties went their separate ways, although they still occasionally keep in contact for the sake of their son together, Jamil.
8. Mofe Duncan
One man that seems unable to stay in one place is Nigerian actor, Mofe Duncan.
Barely a year into his marriage to then-wife Jessica, pictures leaked exposing Mofe's very strange chats with an Instagram user by the name of queen_wizzy.
No surprise, that marriage did not last and now both parties have gone their separate ways.
9. Seyi Shay
One lucky woman whose wedding crashed just days before she actually physically tied the knot was Nigerian singer, Seyi Shay.
In a chat with Simi on Simi's show "Stoopid Sessions", Seyi revealed that she was engaged and in the middle of planning the wedding to her supposed-to-be husband when she walked in on him cheating on her.
Obviously this broke up the wedding plans and shattered the marriage before it was even legal. At least, it's good it happened before he put a ring on her finger.
All this infidelity and straying eyes…nawa o!