8 Young Celebrities Who Change Beyond Recognition During Their Puberty Stage (See Photos)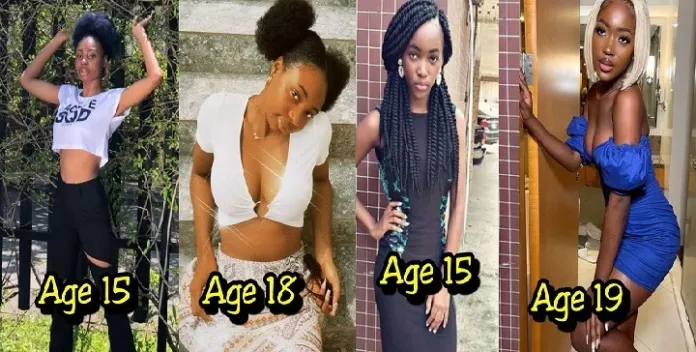 During this 21st century it' s no longer new to the public how children born few years ago grow up so fast that we almost miss it. When it comes to memories nothing is more fun, important and embarrassing than a childhood throwback photos. From those weird hairstyles, dental braces, faces covered in pimples or acne and others we are pretty familiar with during those days. But thanks to growth and puberty stages which turned out to be a magic to many that turned out evolving into an amazing new person.
In honor of growth and puberty stages, We made a compilation of " 8 young celebrities who have changed beyond recognition during their puberty stage"
Below are;
Diana Eneje

We all know Diana eneje, who became very much popular after the appearing in the music video of Rema, the young musician.
Diana is a young model and a brand influencer who showcase wonderful products. She' s not just a youtuber but a very popular social influencer.
Another amazing thing about this young beautiful girl is her wonderful body shape. She has a shape that is admired by all women.
Susan Pwajok

Nigeria is blessed with good- looking talented actors and actresses, and Susan pwajok happens to be one of them.
Susan pwajok is a model, influencer and a talented actress who went into the industrial at a tender age, her lifestyle pictures has helped her earn more than 250, 000 followers for her self titled channel and has featured in so many plays.
Festus Oladunjoye Ojo

Michelle Gentry

Michelle Gentry born on July 11, 2001 is a popular Nigerian actress, model, entrepreneur and brand influencer born to Mercy Aigbe, a veteran Yoruba actress, producer, director and businesswoman who hails from Lagos State. She is the first child in the family.
Regina Daniels

The beautiful actress has been somewhat out of the limelight for a while leaving Nigerians wondering what was up with her life.
Sharon Ifedi

Sharon Ifedi is known for her outstanding talent, amazing fashion style and extraordinary beauty. She is a while package for a girl at 17 years old. Sharon isn' t just blessed alone by all this, she is as well blessed with a beautiful elder sister named Favour who is a while package of melanin beauty.
Priscilla Ojo

Priscilla Ojo is a 19 years old teenager who has proven several times that she hopes to be better than her mother in everyway, in terms of beauty and endorsement she seems to better than her mother and that' s the joy and the prayer of every parents
Chineye Nnebe

Fast- rising Nollywood melanin screen damsel actress Chinenye Nnebe is the beautiful actress, model and television personality is our rising star of the week. Chinenye Nnebe is another Nollywood legacy, who' s been in the industry since she was a child. She is the daughter of Nollywood costumier and movie producer Uche Nancy, she was born 5th April 1997, in Asaba Delta State.
Wow thanks to puberty for these drastic growth and transformations. Between these young stars, whose before and after puberty transformations surprised you the most?.