8 Nollywood's Former Fine Girls and How They Look Now (Photos)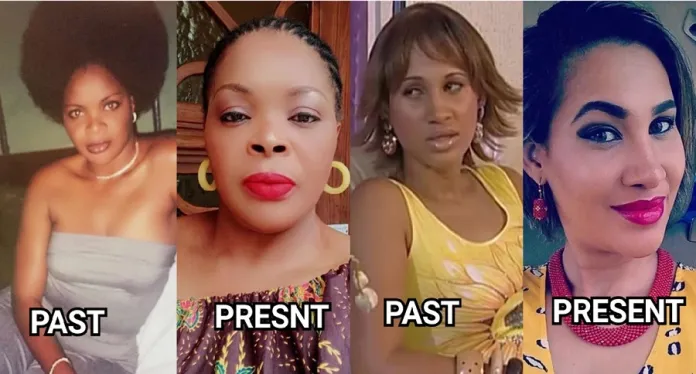 It seems like just yesterday we were watching these actresses.
Let's flashbacks to the 90's and early 2000s, these women dominated Nollywood. Back then, a romantic movie is incomplete without starring any of these Nollywood fine girls.
We may not have seen these women for quite some time but we will always remember them for their characters. There characters always circle around a love that was either forbidden, not supported by one's family, or that had turned bitter.
Below are 8 Nollywood heartthrobs of Nollywood and how they currently look like.
1. Sandra Achums
Once Upon a time, Sandra Achums was one of the 'hottest cake' in Nollywood. She appeared in in classic movies such as Outcast, Circle of Tears, Domitila and Ashanti.
Caroline Ekanem, now Caroline Danjuma, made her Nollywood debut in 2004 starring in Deadly Care. During her time in Nollywood, she was known for her charming look and incredible talent.
Nkiru Sylvanus will forever be remembered as the cry-baby of Nollywood. She was also known as the girl who always had bad luck with love in movies.
Nkiru Sylvanus appeared in classic movies like Egg of Life, Alice My First Lady, and Green Snake. Back then,seeing this lady picture on any poster would push you to buy or rent the cassette.
Georgina Onuoha is another Nollywood fine girl who was very popular in romantic movies. The actress still looks beautiful and much younger.
5. Benita Nzeribe
Who acted the role of bad girl more than Benita Nzeribe back then? Nobody.
The cigarette smoking, "bad influence" actress was notorious for stealing people's husband/ boyfriends in movies
Victoria Inyama, was known for her acting prowess and eloquent deliveries in romantic movies.
7. Rita Nzelu
Before Destiny Etiko and Moyo Lawal, there was a curvy Nollywood actress known as Rita Nzelu. Rita is one of the top Nollywood actresses that enjoyed fame in the early 90s.
Before Regina Daniels, Lilian Bach was the beautiful, light skinned and 'ajebutter' actress every man was in love with.