8 Major Reasons Why Most Celebrity Marriages Fail – The Real Truth!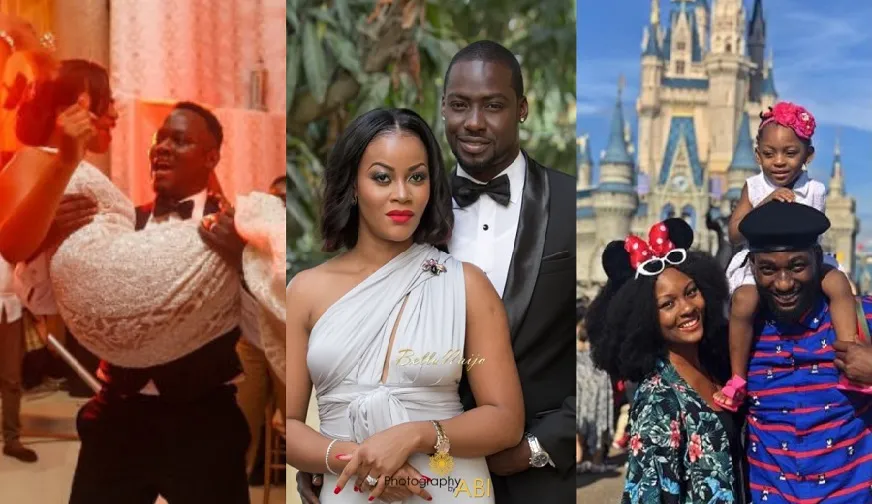 Why most celebrity marriages fail – Over the years we've seen so many celebrity marriages crumble within a year or two after tying the knot, some don't even last up to a year and here we bring you the major reasons why it's so hard for these celebrities to keep their marriages safe, except for the one's who've really decide to settle down and keep to their marital vows.
1. Infidelity
This is a recurrent decimal in many celebrity marriage crashes in Nigeria. Many entertainers cite infidelity on the part of their partners as the reasons for packing up their marriage.
'Gongo Aso' singer, 9ice's ex-wife, Toni Payne, once stated that her estranged hubby's cheating ways was responsible for their marriage collapse.
She reportedly said: "Three things broke my marriage: his family's interference, his manager's interference, and his affair with Vicky Godis."
2. Late Nights
It is practically inevitable for celebrities to keep late nights by virtue of their jobs.
Late night shows, studio runs and location calls are some of the things that keep entertainers out at night, but unfortunately, this is also a major contributory factor to many marriage crashes.
"Most times he lives home and doesn't come back until 7AM, at times 2PM following day," says Tiwa of her husband.
3. Ego problems
Ego problems have also been fingered as one of the leading factors in the collapse of many celebrity marriages. This is especially so in cases where only one partner is famous, and this makes the spouse give in to insecurity.
In the aftermath of popular actress, Funke Akindele's separation from her ex-husband, Kehinde Oloyede, it was reported that the man was often suspicious of his wife's movements as a celebrity.
"I stooped to conquer him; buried my fame and name to make him my husband, but it did not work…  I respect him to the end but he chose to treat me that way. He said he wanted to clip my wings," Funke cried out shortly after the separation.
4. Fraud
Some people believe that whatever belongs to the husband also belongs to the wife, and vice-versa. However, stealing habit is taken seriously by some couples, and it could lead to divorce.
Amongst the many claims made by Tiwa Savage as the cause of her marriage failure, one that stands out is the fact that she said Teebillz was stealing from her. According to her, he used to short-change her while he was still managing her.
She also accused him of piling up debts in her absence which she eventually had to pay for.
"Then the other thing was TJ would declare that they paid N3m. Meanwhile they paid N4.5m, and out of the N3M he's still receiving his management fee of 40%. So you are basically stealing from your wife and it doesn't feel anything," says Tiwa Savage.
5. Alcohol And Drugs
Indulging in alcohol and drugs is known to have destroyed many lives, and marriages are not exceptions.
The love for the bottle and other illicit substances has led to the demise of many marriages. In her video interview last week, Tiwa claimed that Teebillz often neglected his family, preferring to take solace in alcohol and drugs.
She alleged that she once walked in on him sniffing cocaine. "You come back drunk, angry; we were living on eggshells because we never know what mood he'll be in.
At times I even pray that he's with another woman, so that way I know he's still alive and has not gotten drunk in an accident or something else….Or should we talk about the fact that I walked in on him taking cocaine in my house when we were still leaving in 1004 then" he said.
6. Childlessness
Failure to produce children is another reason celebrity marriages go down like ill-fated airplanes.
When actress, Ini Edo's marriage packed up, it was alleged that her in-laws were constantly at loggerheads with her because she was unable to bear a child.
Funke Akindele is also without a child from her previous marriage
7. Witchcraft
Whether you like it or not, Nigeria is a country that is deeply spiritual. Many things that happen on daily basis are assumed to have a supernatural tinge to them. Thus, it is not surprising that Teebillz alleged that Tiwa's mother was trying to destroy his life and business through witchcraft.
This was also cited by 'Jenifa' actress, Funke Akindele, who claimed that her ex-husband, Kehinde Oloyede, probably used charm in marrying her.
A report which went viral at the time of their break-up quoted a close friend of Akindele as saying, "Funke Akindele believes that Kehinde Oloyede used charm to marry her and Funke herself simply could no longer cope with the marriage as a result of many women in Oloyede's life, and the string of kids showing up from different women…the union was dead on arrival."
8. Domestic Abuse
This is another culprit when it comes to celebrity marriage break-