8 Beautiful Nollywood Actresses With Sm0king Addiction (See Photos)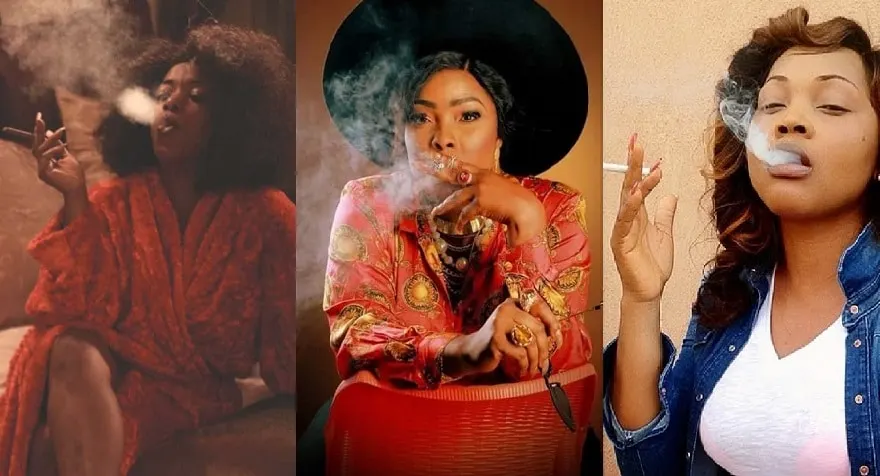 Smoking they says is liable to die young but that won't stop any smoker to desist from it especially the addicted ones. In Nigerian entertainment industry, both movie and music, smoking is like a second love after what they knows how to do best which is acting and singing.
Some of the respected female actresses engage in this illicit act forgetting the fact that they role models in their chosen field. In this piece, the list out some of the notable ten celebrities in the movie industry who are chain smokers.
Here is an alleged list of some of the most popular Nollywood actresses who can't do without smoking, yes and you will be so surprised.
1. Rita Dominic
I'm sure some of you won't be surprised to find someone like Rita Dominic in this list. She's one hell of a bad smoker, the pretty actress doesn't joke with her marijuana.
According to those who have worked with her in the past, I heard she can smoke in your presence, she doesn't care. A friend of mine once told me Rita smoked in their presence when they went to her place for a magazine interview although they claimed she's such a down to earth and a very nice person.
2. Binta Ayo Mogaji
Binta is allegedly a legendary smoker, a pioneer in the smoking department. Reportedly a role model for other actresses who smoke. Don't believe in everything our celebrities portray in the media cos they also have skeleton like we also have in our cupboard. We are all humans, nobody is perfect..
3. Bimbo Akintola
She's a good actress and she's a good smoker. Bimbo is also a regular smoker, she smokes anything at anytime. She's lovely anyway, Sometimes ago it was rumored that men left her alone because of her smoking habit and smoking was reportedly one of the reasons she and Dede Mabiakwu separated.
4. Tonto Dikeh
This might not be a new revelation, who doesn't know she weeds so badly, A close colleague of her said 'Na cocaine remain for this lady to dey sniff'.
5. Eniola Badmus
Eniola popularly known as gbogbo big girl, very sweet and lovable actress but very good in smoking.
Eniola is reportedly a big time marijuana smoker according to some sources and close friends who disclosed that she's asthmatic and she's been warned severally by her colleagues to quit smoking but she insisted.
Isn't that worrisome? An asthmatic patient who smokes?  Eniola Badmus is a role model and would always be one cos a lot of Nigerians do love her.
6. Toyin Aimakhu
Toyin Abraham recently came out to reveal that her ex-husband Adeniyi Johnson introduced her to Drugs and smoking, Toyin Aimakhu was a big time smoker and it is not easy to quit at her level.
It is true she doesn't smoke in public, she does it secretly but that doesn't mean she's stopped smoking.
There was a time Toyin reportedly smoked marijuana and she started misbehaving to the extent that she was swimming on the floor, she practically slept on the floor. This happened on a location in Ghana while shooting a movie titled "Arinzo".
7. Mercy johnson
Mercy was a real smoker and a pathetic smoker, she was an hustler, don't be deceived with the good girl she acts on screen or the Dumebi attitude oooo.
Thank God she got married and she has a sweet family of her own now. She has reportedly quit or slow down her smoking habit after her marriage.
8. Genevieve Nnaji
Everybody loves Genevieve Nnaji but that doesn't mean she's perfect, the most important actress in nollywood is a regular smoker.
Don't be surprised okay cos Genevieve smokes 'codedly', its hard for you to know she smokes. She doesn't do her own openly, she does it secretly but she smokes really hard when she's in the company of her friends