7 Nollywood Actresses Who Have Other Investments Aside Acting (Photos)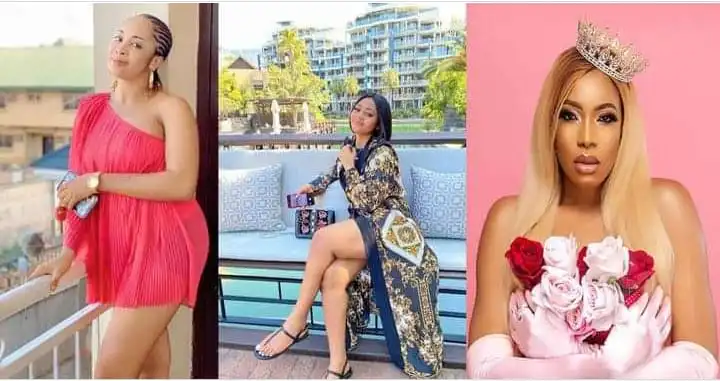 It's not always a smart idea to rely only on one source of income because it could go away at any point. That is why several of our actresses have decided to start their own businesses. Aside from their acting jobs, some of our actresses are dabbling in other fields. They used the money they earned from performing to start their own enterprises, diversifying their sources of income.
We'll look at seven Nollywood actresses who run their own businesses in this post. They are succeeding in their enterprises and remain involved in the film industry.
1. Regina Daniels
Regina Daniels is a stunning Delta State actress. Regina Daniels is one of the actresses that has been successful in diversifying her revenue streams. She isn't solely reliant on the income she receives from her acting career. She has dabbled in the fashion industry. Regina Daniels owns a fashion label of her own. Regina Daniels owns a film production firm as well. All of this has been accomplished by Regina Daniels, who is only 21 years old. Regina Daniels is a successful Nigerian woman in her early twenties.
2. Mimi Orjiekwe
Mimi Orjiekwe is a stunning Enugu State actress. She is one of the few actresses with a company in addition to playing. Mimi Orjiekwe works in the beauty industry. She's been in the beauty goods industry for more than six years. She is a successful businesswoman as well as an actress. Mimi Orjiekwe is an accomplished businesswoman.
3. Amarachi Igidimbah
Amarachi Igidimbah is a stunning Nollywood actress that hails from the state of Imo. She works as a hairdresser. Amarachi made the decision to start a hair salon. She owns a business in Asaba. She's doing well as a hairdresser. She is a famous actress. She is succeeding in both her business and acting endeavors. She is a stunning and successful young woman.
4. Chika Ike

Chika Ike is a stunning actress from the state of Anambra. She is a successful businesswoman. She owns a fashion label. She also has a production firm. Chika Ike is dubbed "Boss Lady." She is known as the Boss Lady. She already owns and operates multiple businesses. She's doing it in addition to acting. She's doing extremely well. Chika Ike is a well-known Nigerian woman. She has shown that you can try your hand at a variety of things and succeed in each one.
5. Rebecca Nengi Hampson
Rebecca Nengi Hampson is a stunning Bayelsa actress and reality star. She is a businesswoman that works in the shoe industry. She specializes in fashionable women's footwear. Her shoe business is performing nicely for her. She has had a successful career in the film industry since her debut. She has been in a few Nollywood films. She is a successful businesswoman as well as an actress. She is one of the country's most successful young women. She is one of those who aspires to run her own company.
6. Uche Elendu
Uche Elendu is a stunning Abia State actress. She is a successful businesswoman. She works with cosmetics and fashion brands. She is still working in the movie industry. She is a firm believer in diversifying her sources of income. She is an actress and a wealthy businesswoman. In both fields, she has performed admirably.
7. Chioma Nwaoha
Chioma Nwaoha is a stunning actress from the state of Imo. She is a young businesswoman. She sells cosmetics and weight-loss aids. Her business is currently going well for her. She's also a fantastic actress. She is excelling in both professions. She is a successful Nigerian entrepreneur in her early twenties. She didn't rely only on the money she earned as an actress. She now has multiple streams of income.
The seven actresses listed above are all doing fantastic work. They are employers of labor because their firms employ sales representatives. They're all performing fantastic jobs and giving their good proportion to the country's development.