7 Nollywood Actresses Who Are Not Addressed By Their Real Names (Photos)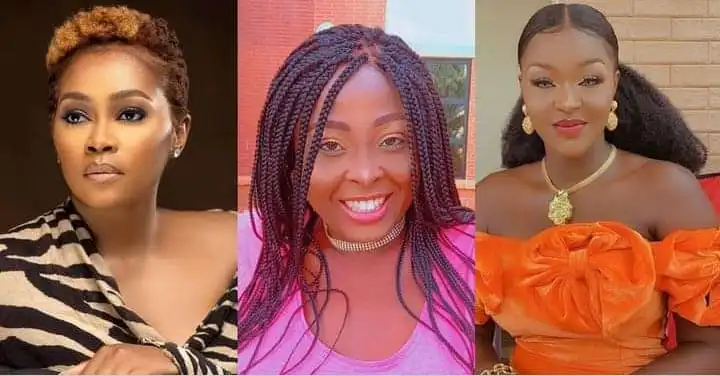 After the success of my post 7 Nollywood Actors Who Don't Go By Their Real Names, a number of you asked me to do an equivalent post for actresses in the industry. Your wish is my command.
.
.
Pseudonyms, pen-names, stage names, they are a very normal practice in the entertainment industry. For various reasons ranging from better branding to privacy, a number of popular entertainers, musicians, writers, and actors choose to use stage names.
Sometimes these stage names become so popular that audiences simply assume that the stage name of an act is their actual name when in fact it is not.
Today, we'll be counting down 7 Nigerian Actresses You Didn't Know Use Stage Names and of course, I'll be revealing to you the real names of each of these celebrities. Are you ready to jump in? Then let's go!
1. Chacha Eke
Popular Nigerian actress Chacha Eke known for movies like The End is Near, Sound of Ikoro, and My Only Inheritance actually isn't really named Chacha.
Chacha's real name is Charity Eke. Chacha must have come out as a natural pet name from Charity.
2. Tana Adelana
Popular Nigerian actress, model, TV presenter and entrepreneur Tana Adelana popularly known for her movies such as Baby Daddy and Body Language is actually not really named Tana. Tana's real name is Christiana Nkemdilim Adelana.
Instead of Christiana, she decided to shorten it to Tiana and take out the i to become Tana. It's a better stage name to me than Tiana Adelana although that too doesn't sound bad.
3. Lola Idije
Lola Idije is a popular Nollywood actress most known for playing Madam Adisa in 1995's Deadly Affair. Her real name is Toyin Afolayan .
If that surname sounds familiar to you, it's because she is in fact the aunty to celebrated Nollywood filmmaker Kunle Afolayan.
4. Moet Abebe
Moet Abebe is an actress, TV presenter, video jockey, and socialite. While everybody knows Moet Abebe by this name, her real name isn't really Moet.
Moet's real name is Laura Monyeazo Abebe.
5. Chizzy Alichi
Chizzy Alichi is a popular Nigerian actress known for starring in movies such as Power of Madness, Point & Kill, and The King's Wealth. While fans and colleagues know her as Chizzy, it is in fact not really her name.
Chizzy's real name is Chigozie Stephanie Alichi. I'm guessing Chizzy comes as a pet name from Chigozie.
6. Oyinbo Princess
While it is quite obvious that Oyinbo Princess cannot be her real name, it is the name everybody knows this comedienne and actress by.
Oyinbo Princess' real name is Claire Edun.
7. Lolo 1
Another person who people know mostly by two names that are not hers: Adaku and Lolo is Jenifa's Diary actress and presenter, Lolo 1.
Lolo's real name is Omotunde Adebowale David .
Are you surprised about the real names of any actresses on this list? If so, let me know who and why by leaving a comment on my Facebook post.