7 Nigerian Female Celebrities Who've Rocked And Nailed The Afro Hairstyle (See Photos)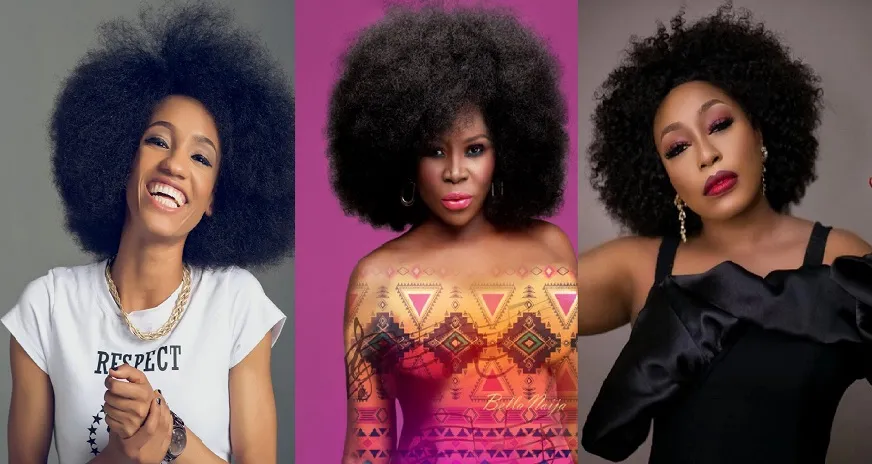 The afro is a type of hairstyle that is noted for its large size. The hair is curled out, forming a ball shape. For some people, this is how their hair grows, because it is naturally curly.
Nigerian female celebrities who are always at the fore front of everything nice have also slayed the afro look, either with their natural hair or as an attachment.
We present you with 7 Nigerian celebrities who have slayed with their Afro hairstyles.
1. Genevieve Nnaji
Nnaji who was honoured as a Member of the Order of the Federal Republic by the Nigerian government for her contribution to Nollywood in 2011 has owned this look at some point.
2. Rita Dominic
Sultry actress, Rita Dominic is not a newbie when it comes to rocking the Afro look and she always looks glam.
3. Nse Ikpe Etim
Nse who came into prominence in 2008 for her role in Reloaded is known to style her hair in many different ways. The afro look is one of her favourites.
4. Omawunmi
Omawunmi gained attention as the 2007 runner-up on West African Idols, a reality TV show part of the Idols franchise. The Afro look is her signature style.
5. TY Bello
Prior to pursuing a solo career, she was a member of the defunct gospel band Kush. TY Bello is also a member of the Nigerian photography collective, Depth of Field. TY Bello hardly ever rocks any look apart from this.
6. OloriSuperGal
Tosin Ajibade (OloriSupergal) popularly known for her lifestyle and entertainment website, OloriSuperGal.com. She is also the organizer of the New Media Conference that is held annually in Nigeria. She constantly rocks this look.
7. Di'Ja
Di'ja could easily pass for the Nigerian Afro queen as she rocks her kinky mane effortlessly. Her mother is from Northern Nigeria and her father is from Sierra Leone.