7 Nigerian Actresses Who Work in Food Business (Photos)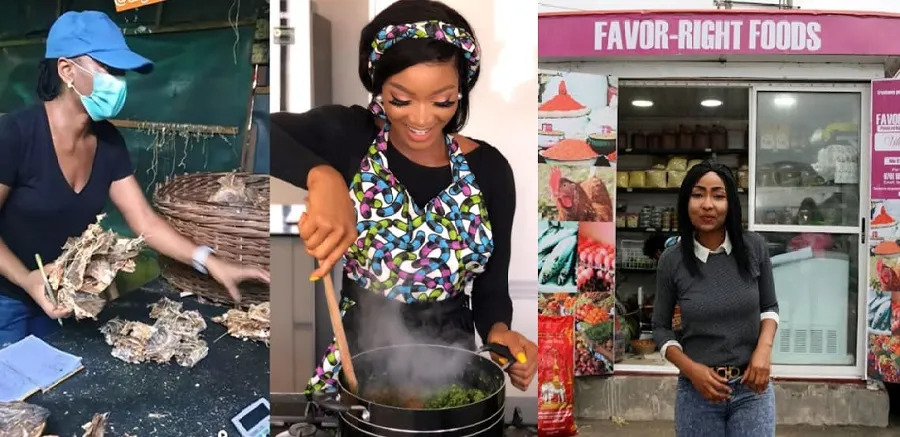 We are in the world of side hustles. Everybody these days seems to have multiple streams of income, different things they're doing to make money. Some people go into fashion, some people go into real estate, today we'll be talking about people who went into food.
Nollywood is a good avenue for money and fame. Still every actor in the industry will tell you that Nollywood alone cannot pay your bills, so even as an actor, one must find something else to do to supplement their income.
In today's list, we'll be counting down 7 Nigerian Actresses Who Are Supplementing Their Income By Also Working in the Food Industry. Are you ready to jump in to see who's on the list? Then let's go!
Nollywood actress Belinda Effah is one very popular face in the industry. Belinda has acted in such movies as Locked, Apaye, A Star in Heaven, Fine Wine, and more. In addition to the money she makes from acting in Nollywood, Belinda also ventured into the food business.
The beautiful actress has a shop in Sangotedo – Ajah-Lexxi Axis called Favor-Right Foods where she sells food items. Belinda boasts her products to be fresh and wholly organic and said she created the shop to meet the daily food demands of people especially working class women, bachelors, and students.
2. Iyabo Ojo
Another actress who entered into the food business is the wildly talented Iyabo Ojo. The actress in 2017 achieved a big dream she said she had of owning her own restaurant. The restaurant is called Abula Spot and is located in Lekki, Lagos.
Iyabo said she created the restaurant as a way to meet the demand of hungry people who are very busy and looking for a place to grab something good while to or from their ways home.
3. Wofai Fada
Content creator and My Flatmates actress Wofai Fada is another actress who works in the food business. Wofai Fada is the owner and operator of the popular restaurant Just Afang which is located in the heart of Lekki Phase 1.
The restaurant boasts itself to be the best indigenous restaurant and lounge with popular Calabar-based recipes like Afang, Ekpangkuwu, Edikaikong, and more.
4. Ini Edo
Another actress who entered the food and hospitality business is Nollywood star Ini Edo. The talented actress was the owner and CEO of Mimz Bar & Lounge, a night club and restaurant situated in Lekki, Lagos. However, according to reports by LITV series Rumor Has It, the lounge shut down about two years after its opening due to poor management.
5. Chioma Akpotha
Another Nollywood star who entered into the food business in 2019 is Nigerian screen legend, Chioma Akpotha. The remarkable actress announced the opening of her restaurant, Ugomba's Kitchen, named after her late mother on 28th December 2019.
The restaurant prepares fresh home made soups and delivers within Lagos only.
6. Lilo Aderogba
Big Brother housemate Lilo Aderogba is another actress who has entered into the food business. Lilo last year opened the doors to her food spot, Cafe 23, a restaurant which she says aims to provide healthy food to its customers. Lilo said about the business:
I'm a dietitian and it has always been my dream to own my place where people have healthy stuff. Having the platform as well and I thought this is the time to do this so I made the move. Also as a dietitian I can also let you know the calories you are consuming. So it's not just that you are eating and you won't know what the content it is about.
7. Sola Sobowale
Another actress who entered into the food business is King of Boys star Sola Sobowale. Unfortunately, the restaurant didn't survive the test of time and Sola eventually had to shut it down. However, she spoke about it during an interview with Premium Times when she opened up about a number of side hustles she tried in her life. Sola confessed that ultimately she realized that the only thing she can do is acting after trying her hand at many things. Sola said:
I have been acting for 40 years now. I can't do any other thing aside from acting. I make my own dresses because I don't wear ready-made.
I owned a clothing line in the past and my colleague, Eucharia Anunobi, used to model my clothes. My daughter sketches them so I make them myself. I had a restaurant, a saloon, and a fashion house in the past.
Even though her own restaurant didn't make it, Sola still loves to patronize traders. One time when she was caught in the market smelling a trader's beans, she posted the video saying: "Street food is one of my favourite things about our culture. Whenever I see freshly baked bread and beans. Kai!"
Shoutout to all the women here trying to make it in the food industry. It is a highly competitive industry and it's not at all easy. Good luck to the women who are still in business. All the best and I cannot wait to come and taste what some of my favorite actresses are cooking.
That's All.