6 Yoruba Actresses Who Married The Same Men At Different Times Of Their Lives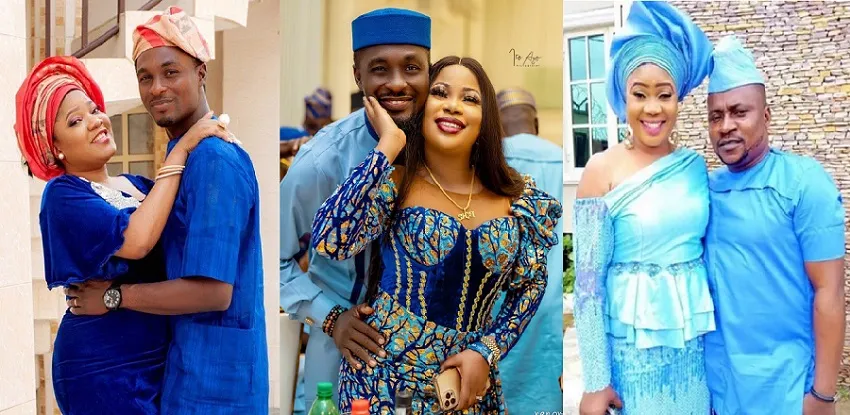 It is every woman's desire that they don't share their husband with any other woman which is the absolute rule of women in relationships.
The actresses got married to the same men at different times of their lives which raised a lot of questions about the fidelity of the men whiles they were married to their previous spouses.
Doris Simeon and Stella Damascus are both Nollywood actresses who have a bone of contention between them because they were once married to the same man at different times in their life.
Doris Simeon was initially married to producer and director Daniel Ademinokan and they had a son out of the marriage. Their marriage crashed in 2013 and in 2014 rumours were rife that Daniel was going out with Stella Damasus. They later confessed to being together as husband and wife.
Nollywood actresses Toyin Abraham and Oluwaseyi Edun have also been married to the same man at different times before. Toyin and Adeniyi Johnson got hitched in July 2013 after they met on movie set in 2013. Their marriage could not last as they divorced in 2015.
Adeniyi Johnson found love in another actress,Oluwaseyi Edun the same year he divorced Toyin.
Atinuke and Wumi Ogungbe
In an interview with Saturday Beats, Segun Ogungbe said he has a very peaceful household despite online rumours that his wives had once been at loggerheads.
He said, "I have a peaceful household. God has blessed me with wives that understand each other. It is only God that can help a man have a peaceful home. However, for those who think that I would have about 20 wives like my uncle; all I have to say is that they should mind their business."
Segun, nephew of the late actor and filmmaker, Akin Ogungbe, who had 20 wives and 50 children, also debunked claims that he married two best friends.
"What actually happened was that there was a lady who wanted to marry me a long while ago and I made her realise that as of that time I could not have two wives. She is not into entertainment at all and I would not want to mention names. Eventually, I got together with my second wife and when she got pregnant and we eventually got married, the lady was very mad at me.
"She was the one that went on her Facebook wall to spread the false news that I got my first wife's best friend pregnant. She was the one that framed me simply because I did not want to marry her back then. Sadly, people are quick to believe news like this without confirming the truth," he noted