6 Handsome Actors Who Were The Best In Nollywood In The 90s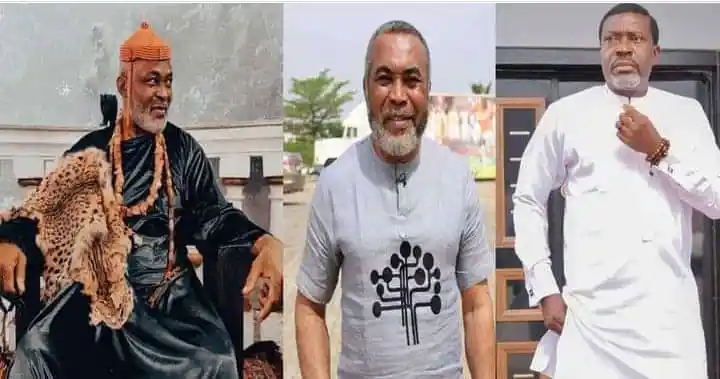 Every decade features a different group of actors who have dominated the Nollywood film industry. The 90s were home to some of the biggest names in entertainment.
Apart from their ability to deliver stellar performances in films, these handsome actors were and continue to be extremely attractive, even as they age.
Here are some handsome actors who ruled Nollywood in the 90s.
1. Richard Mofe Damijo
Richard Mofe Damijo is an obvious choice for a list of the most appealing performers of the 1990s.
Throughout the 1990s, many young females fell in love with the Delta State-born actor, writer, and producer, and he has remained on Nollywood's list of most gorgeous performers.
Richard still has the same unmistakable smile and stylish flair that made him a television and media sensation.
2. Zack Orji
Zack Orji is a veteran Nollywood actor, filmmaker, and producer. He is frequently recognized as one of our generation's most attractive actors.
His first film was released in 1991, and he has since been in a number of notable films that have wowed audiences. He is still engaged in the Nigerian film industry today.
3. Pat Attah
Pat Attah was undeniably one of Nigeria's most attractive film stars. Known as "the Nollywood loving boy," he is a popular figure in the industry.
After starring in the Nollywood blockbuster film "Glamour Girls" in 1994, the actor soared to popularity.
During the height of his success in the 1990s, most Nigerian women had a thing for him because of his good looks, charisma, and impeccable sense of style, among other things.
Several years ago, the actor and model moved to Germany. On the other hand, he's still as appealing as he was in the 1990s.
4. Kanayo O Kanayo
Kanayo O Kanayo was one of the pioneers of Nollywood. He is widely known for his ability to act in ritual films.
He is talented and creative in his movie roles. He can fit into any movie role given to him on set. He is one of the actors who has made heads turn in the industry.
5. Kenneth Okonkwo:
Kenneth Okonkwo was one of the early actors of Nollywood. He is widely known for his good command of the English language.
He is one of the best-looking actors Nollywood has ever produced. Even though he is getting older now, his handsomeness never fades.
6. Saint Obi
He was believed to be one of the founding fathers of the Nollywood industry.
If you miss seeing his visage on screen, you can see him in some classic Nollywood films such as Festival of Fire, Executive Crime, Sakobi, Last Party, Goodbye Tomorrow, and Candle Light, among others, from the 1980s and 1990s.
The multi-award-winning actor first came to the public's attention in the 1990s when he demonstrated exceptional acting abilities. His enticing appearance was also one of the reasons he was featured on multiple magazine covers at the time.
He is still a gorgeous man even at the age of 56.
Which of these actors would you term your best in the industry?