5 Male Celebrities Who Are Younger Than Their Wives (Photos)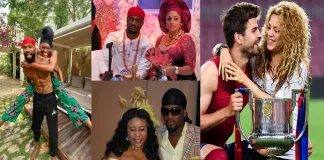 What a lot of people believe is that when it comes to marriage, the most proper thing is for the husband to be older than the wife.
This is because the husband is seen as the head of the house, and he needs to be older to be in charge and be able to take responsibility.
But time has changed, and this is not always how it is these days. There are a lot of men who are now getting married to older women, and this doesn't stop their marriage from being blissful.
There are male celebrities who have also proved that age is just a number when it comes to marriage. They got married to older women and have been living in peace and harmony.
Let's take a look at some of these celebrities who are younger than their wives.
1. Mike Edwards
Former Big Brother Naija housemate, Mike Edwards, got married to an older woman, Perri Shakes Drayton, in 2019. They both had a romantic relationship for a few months before they tied the knot. Perri Shakes, who is a British retired track and field athlete, is a 33-year-old woman, while Mike is a 30-year-old man.
Hugh Michael Jackman is a popular Australian actor. He is popular for his role as Wolverine/Logan in the X-Men film series.
Hugh Jackman is married to Deborah Lee. Deborah Lee is 13 years older than Hugh Jackman.
3. Darey Art-Alade
Darey is a popular Nigerian singer, songwriter and a performing artiste.
Darey Art-Alade and his wife, Deola Ayeni, have proven that age is just a number as they have reportedly been married for over 12 years. His wife, Deola Ayeni, is 8 years older than him.
Gerard Piqué is a Spanish professional footballer. Gerard Piqué plays as a defender for Barcelona. He is married to popular singer, Shakira.
Shakira is 45, while Gerard Piqué is 35. That's a 10-year gap.