11 Surprising Things You Didn't Know About Davido's Elder Sister, Sharon Adeleke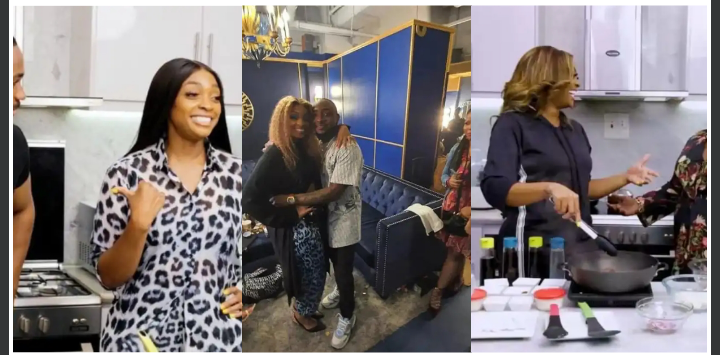 Nigerian singer Davido is by far one of the biggest, most successful, and most famous entertainers Nigeria has ever created.
With now over 20 million followers on Instagram, saying that Davido is popular sounds like an understatement. He has a league of fans that know almost everything there is to know about him.
Yet even some of his biggest fans of all time do not know that Davido has a sibling. Yes! Davido has an elder sister named Sharon and today, we'll be counting down 11 things you definitely didn't know about her.
The first thing you should know is that Davido's elder sister Sharon no longer goes by the surname of Adeleke like her brother or father, but now goes by Ademefun. She is married to businessman, Yomi Ademefun.
2. She's a Mother.
Not only is Sharon a wife, she is also a mother of not one, not two, but three beautiful children.
Speaking in an interview with SheLeadsAfrica, Sharon said:
I have a no-nonsense attitude when it comes to my business. I don't joke with my money and I keep my focus on my work.
She is the creative director of Rona Wigs Studio, a company that makes hairpieces and extensions.
4. She Loves To Cook.
Sharon once said that while she loves to cook, she doesn't have much time for it. However, it looks like she's made time for it now as she has an online cooking show called Diary of an Inner Fat Girl where she's had guests like Eniola Badmus, Kiddwaya, and of course, Davido as guests.
When asked what her hobbies are, Sharon said:
My hobbies are wig-making and sleeping. Truly, making wigs is my hobby and my passion.
It was a prayer point for me that I do something I love and be able to feed myself with it. I would say that I am lucky, because I wake up each morning with excitement about my work, and it is great.
6. She Learnt Her Work From YouTube
While many people think that because she comes from money, she would have had the most fancy trainer sent to her house, Sharon said that she trained herself on the art of wig-making and did it all by watching YouTube videos. She said:
When I had my first child, I was on a lot of bed rest and I needed to make my hair. I found this lady on YouTube and I asked her to make my hair and it was really good. She used closures and they came out nice.
When I had to go back to the States and needed to do another, she suggested I make a wig. But later on, I needed her to do more and she was not coming through so I just told myself, "What is in wig-making?"
I got on YouTube and watched videos of wig-making and pretty much taught myself to make wigs. I made for myself at first, and my friends wanted me to make for them. That was how I got into making wigs.
7. She's Into Fitness
On her Instagram page, Sharon now hosts a video series titled, "Diary Of An Inner Fat Girl – My Weight Loss Journey" in which she shares her experience trying to lose weight as well as shares tips on how to lose weight. She also regularly works out on her Instagram and posts tips on working out.
8. She Just Opened a Beauty Center.
Just a day ago, Sharon announced the launch of her beauty center, Rona Wigs Beauty Center which is a lavish beauty center for nails, pedicures, braids, etc.
9. She Believes Her Dad's Money Isn't Hers.
While many people believe that she'll feel entitled, Sharon made it clear in an interview saying:
Yes my daddy has his money but it is not my money. My daddy has his own money, Davido has his, I want to make mine.
10. She And Her Brother Are Very Close
She and Davido are very close. When they get together, it's always play. In interviews, she has talked about how close two of them are and so has he during his interviews. They are literal sibling goals.
11. She Says There Are Advantages and Disadvantages of Being an Adeleke
Speaking on how being an Adeleke has either helped or hurt her business, Sharon said:
It has its advantage and its disadvantage. For starters, people are curious and they want to see Davido's sister working. So curiosity brings them in first. While that helps in a way, I don't use that as a base.
I treat all customers alike and while they might not buy something that first day, they usually return another day due to the warm reception they receive from us.
The disadvantage is that people think because of my background, I don't need to work. They don't understand that no matter who you are, money can be tight.