10 Ghanaian Actors With The Cutest Wives (Photos)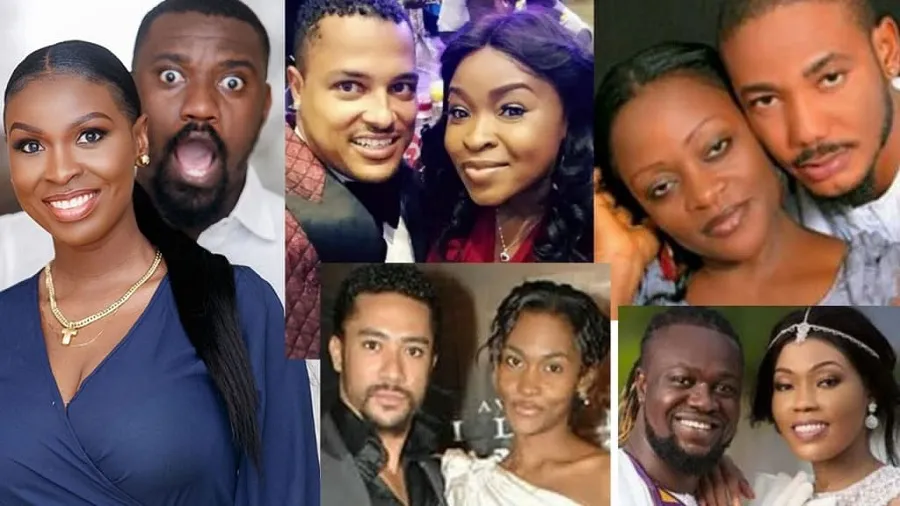 These women are gorgeous.
Ghanian actors. I remember that year when Ghanian actors really started taking over the Nigerian market like a storm. There was a swarm of extraordinary talent that started flooding in and that was so undeniable. Names like Van Vicker, Majid Michel, Jackie Appiah, Nadia Buari, and Yvonne Nelson were just a few of the names that broke into the Nigerian sphere and made a name for themselves.
But till today, little is known especially to non-Ghanians about the personal lives of these Ghanian celebrities. Actually, I was very surprised when I saw a picture of John Dumelo and his wife. She's stunning. And so it got me thinking, all these other Ghanian actors, where are their wives?
The more I looked and found, the more and more impressed I became and I just knew I had to share my findings with you. Are you ready to jump in and see some very beautiful ladies? Then let's go.
1. Van Vicker
Ghanian actor and heartthrob Van Vicker popularly for starring in movies like Divine Love, Darkness of Sorrow, and Princess Tyra got married to his wife, Adjoa in 2003. His wife is gorgeous.
2. Prince David Osei
Prince David Osei is a famous Ghanaian actor, model, producer, director and a philanthropist. He's married to a beautiful wife named Louisa Nana Ama Asieduaa Korankye who he decided to finally show off while celebrating her birthday on social media.
3. Ekow Smith Asante
Ekow Smith Asante is a famous Ghanaian actor, television personality, producer, director, production designer, consultant, entrepreneur and a philanthropist. The famous actor is married to another successful Ghanian actress named Nittina Smith Asante and Nittina is beau-ti-ful!
4. Adjetey Anang
Adjetey Anang is a Ghanaian actor fondly known as "Pusher" by his fans and colleagues alike, which was his screen name in the television series Things We Do for Love. The very successful actor is married to a beautiful wife named Elom Anang.
5. Stonebwoy
Stonebwoy is one of my personal favorite musicians across the continent and the world really. But what many people don't know is that Stonebwoy is also an actor. He acted and won an award for his performance in 2014 movie, Happy Deathday, and has gone on to act in other projects. He's married to a very beautiful wife named Louisa Ansong. The two tied the knot in 2017.
6. Eddie Nartey
Eddie Nartey is a Ghanaian actor, director, and film producer. His supporting role in Frank Rajah's Somewhere In Africa earned him a nomination at the Nollywood and African Film Critics Awards, and Ghana movie awards. The actor is got married to his long-time girlfriend, Vida Danso in September of 2018. She is beautiful!
7. Chris Attoh
Chris Attoh is a Ghanaian actor, on-air personality, television presenter and producer best known for playing Kwame Mensah in the long-running Nigerian soap opera Tinsel.
Chris Attoh got married to very beautiful wife, Damilola Adegbite in 2015 but the marriage lasted only 2 years. Even still I include her in this list because she is gorgeous and shows that Chris really has good taste.
8. Frank Artus
Frank Artus is a popular actor, director, and producer. He married his beautiful wife, Prima Frank, in 2011 and the two have been happily married ever since.
9. Majid Michel
Majid Michel is a Ghanaian actor who has received nominations for Best Actor in a Leading Role at the Africa Movie Academy Awards in 2009, 2010, 2011, 2012, 2014 and 2017. In 2005, he got married to his beautiful wife Virna Michel and the couple have been married ever since and blessed with 3 children.
10. John Dumelo
John Dumelo is a Ghanaian actor, farmer and politician. He tied the knot with his wife, Gifty Mawuenya Akornu in a traditional ceremony on Saturday, May 11, 2018 and later did his white wedding on May 12, 2019. The couple have been blessed with a son.