10 Famous Nigerian Celebrities Who Kicked Bucket In 2021 (Photos)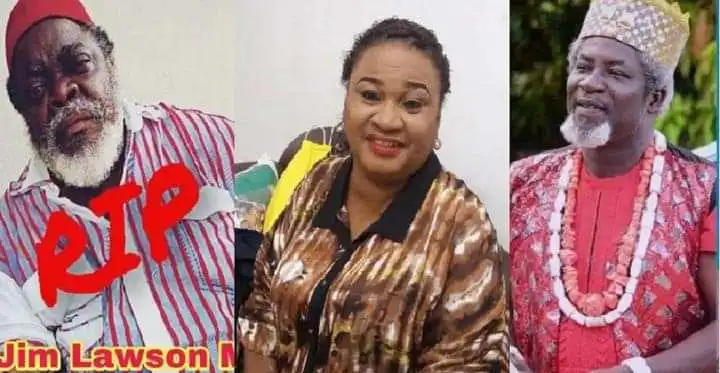 A sad fact about life is that life comes with death. It will happen to all of us. The devastation that the death of a friend or loved one causes is profound. However, 2021 is coming to the end. Many people kicked the bucket in 2021, including some notable Nigerian celebrities. 
So not to waste much of your time in this article I will be sharing with you 10 Nigerian celebrities who kicked bucket in 2021.
1. Sam Obiago
Sam Obiago was a popular Nollywood actor, filmmaker, television personality and a movie producer who has featured in over 100 Nollywood movies and known for always playing the role of a king in several Nollywood movies. He suffered from a stroke for some time now, which has been managed, but sadly he died on the 23rd of December 2021. His death was later confirmed by the President of the Actors Guild of Nigeria (AGN) Emeka Rollas, who said an Iroko has fallen. The sudden death of Sam Obiago came as a shock to his families, colleagues and fans. He died on the eve of Christmas.
---
2. Rich Oganiru
Rich Oganiru was a popular Nollywood actor, producer, and director. He is a veteran actor who has been in the Nigerian movie industry for more than two decades. He was born on the 23rd of May 1957, in Imo State and died on the 10th of August 2021, at the age of 64. The talented actor died weeks after he went public with his ill health. Few months ago a video of the late actor looking really sick, lying in his bed and seeking for financial assistance, surfaced online. The video, shared by one of his colleagues, was captioned, "Please, everyone should reach out before he dies." The Owerri- born actor died on Tuesday, 10th August 2021 after being ill for months without funds to cater for his health.
---
3. Stanley Okoro
Stanley Okoro was a fast-rising Nollywood actor, comedian, content creator, Master of Ceremony, and promoter. He was born in 1993 in Anambra State. He died on the 11th August 2021 in a hotel room in Maryland area of Enugu State in the south eastern part of Nigeria after completing a movie shoot at the age of 28. A close source on Facebook has revealed the real cause of death of popular Nollywood fast-rising actor Stanley Okoro.  It was reported that the actor passed on as a result of food poisoning. A post sighted online shows that Stanley Okoro fondly called Rabbi died of suspected food poisoning and that has broken the hearts of most Nollywood actors and actresses who have worked with him.
---
4. Seun Michael
Seun Michael was a popular Nollywood actor, filmmaker, and production manager who have worked closely with many actors and actresses like Funke Akindele, Olaiya, Segun Ogungbe, and others. He died on the 11th of August 2021. The tragic news of the actor's death was announced by some of his colleagues, bringing shock to many others. The late Seun Michael who worked closely with Funke Akindele as production manager had complained of malaria. The late actor worked with Olaiya as his main production manager and also worked closely with actress, Funke Akindele, in the same capacity. The actor had reportedly complained of malaria before his sudden death and was supposed to hit the location on Friday for another project.
5. Rachel Oniga
Rachel Oniga was a popular Nollywood actress, producer, and director. Infact, she was a veteran actress who has been in the movie industry for almost 3 decades. She was born on 23rd May 1957 in Lagos State. She was one of the popular actresses who acted in both English and Yoruba films. Rachel Oniga died on the 30th July 2021 at the age of 64. Toyin Odusote, the elder sister of the late Nollywood actress confirmed reports of her demise and revealed how she died. Mrs Odusote, who issued a statement on behalf of the late actress family, also debunked claims that her sister died from COVID-19 complications. However, she writes to inform the general public that she died from a heart-related issue, an ailment she battled with for a short period of time before her demise. Mrs Odusote also revealed that the late actress died in a Lagos hospital on Friday, July 30, around 10 p.m.
6. Ada Jesus
Mercy Mmesoma Obi Nnadi popularly known as Ada Jesus was a popular Facebook comedian and actress. She was diagnosed with a kidney-related disease that left her paralyzed in 2020. The 23-year-old beautiful actress, Ada Jesus died of Kidney related disease on the 21st of April 2021. In December 2020, Ada Jesus was diagnosed with kidney disease which left her paralyzed and using a wheelchair, causing her body to swell, especially her face and stomach. She was later admitted to New Hope Hospital in Onitsha, Anambra state.
In April 2021, when her health deteriorated further, she went to ask for forgiveness from Prophet Odumeje, the founder of Mountain of Holy Ghost Intervention and Deliverance Ministry, actress Rita Edochie and an Asaba based native doctor, Chi Marine Temple. Ada Jesus accused pastor Odumeje of conniving with Rita Edochie to stage fake miracles and deceive people in his church. She also claimed she arranged people for fake miracles in the church and helped Rita Edochie get men to sleep with her.
She went further and attacked Chi Marine Temple whom she mocked and called a fake native doctor. On 20th April 2021, she suffered a Cardiac arrest in the night and was rushed to the intensive care unit of Zenith Medical & Kidney Centre where the doctors monitored her, she died the following morning at approximately 7:15 am.
7. Victor Olaotan
Victor Olaotan was a popular Nollywood actor, filmmaker, and content creator. He was born on 17th February 1952, and died on the 26th of August 2021, at the age of 69. Victor Olaotan died on 26th August 2021 at the age of 69 years old due to brain injury caused by the car accident he was involved in October 2016. He began his career as an actor when he joined the University of Ibadan theatre group, where he met other artistes, such as Professor Wole Soyinka and Jimi Solanke among others. After his father died, he traveled to the United States in 1978 but returned to Nigeria in 2002 to continue his career in acting. He became more popular in 2013 after his leading role in a Nigerian Soap Opera Tinsel that began airing in August 2008. The veteran actor was involved in a motor accident in October 2016 and suffered nervous system injury. He was driving to a movie set when the accident took place around Apple Junction, in Festac, Lagos.
8. Jim Lawson Maduike
Jim Lawson Maduike was a veteran Nollywood actor, filmmaker, and film producer from Imo State. He joined the Nigerian movie industry in 2004 and he was featured in more than 150 Nollywood films. The Veteran actor, Jim Lawson Maduike died on January 9, 2021. The Imo-born actor died after reportedly complaining of body pains at around 12 pm. His death comes days after the demise of popular Yoruba actress Folake Aremu, popularly known as Orisabunmi. Before his death, Jim Lawson Maduike was a famous Nollywood actor, radio broadcaster, writer, voice-over artist, filmmaker and a television personality. He always features as a father, father in-law, husband and grandfather in several Nollywood movies.
9. Bruno Iwuoha
Bruno Iwuoha was a popular Nollywood star. He was veteran actor who has been in the industry for almost three decades. He was born on the 6th October 1952 and died on the 10th of April 2021 at the age of 68 years old. The movie star died in the early hours of Saturday 10th of April 2021 after a prolonged battle with diabetes. Actress Monalisa Chinda-Coker, who is also the Director of Communications of the Actors Guild of Nigeria (AGN), confirmed the news. He always features as a father, father in-law, husband and grandfather in several Nollywood movies.
10. Sound Sultan
Lanre Fasasi popularly known as Sound Sultan was a Nigerian musician, songwriter and music promoter. Sound Sultan died of cancer, on the 11th of July 2021. His death was announced in a statement on Sunday morning by his family. He was 44 years old when he died. The family, in a statement, said Sound Sultan died on Sunday 11th of July 2021of Lymphoma also called lymphatic cancer. A cancer of the lymphatic system.
The lymphatic system is the body's disease-fighting network. The popular singer died after a long battle with cancer. He has been in the music industry for more than 20 years after he launched his first debut album. Aside from music he is also an actor and has appeared in numerous television series such as Flatmate. Unfortunately, he died on Sunday 11th July 2021 due to cancer of the lymphatic system known as Lymphoma. May their gentle souls rest in peace.